The popular UC Browser, owned by China's Alibaba, has mysteriously gone missing from Google Play Store, and nobody seems to know why.
The app, which managed to briefly overtake Chrome to become the most-used mobile web browser in India earlier this year, apparently disappeared from the Play Store on Tuesday, just weeks after topping 500 million downloads on the official Android repository. Developed by UCWeb, US Browser is reportedly the sixth downloaded Android app in India.
It's worth noting here that the iOS version of the app is still available in the Apple App Store while the UC Browser Mini continues to be listed on the Play Store.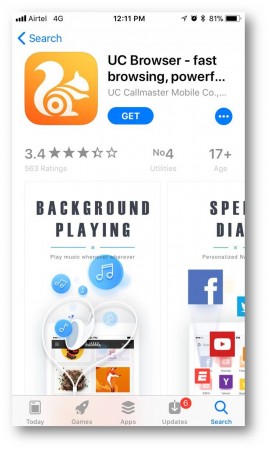 While there is no statement from either Google or UCWeb about the unexpected disappearance of the app, some users on Reddit have suggested that the misleading redirect ads served up by UC Web's affiliates to trigger installs likely prompted Google to delist the browser.
An email, recently received by Android Police's Artem Russakovskii from the parent company UC Union, also supports the same theory.
Here's the email:
Dear Partner, We hereby emphasis again that UC Union prohibits any and all misleading/malicious advertising method(s) to procure new users when promoting UC Browser campaigns, such as by using slogan inconsistent with the Product functions, or by using inductive slogan.

DO NOT use the Malicious Promotion method(s) or STOP such behavior immediately if you are acting so. Upon discovery a Malicious Promotion, UC Union is entitled to

(i) STOP your payment settlement, or DEDUCT your corresponding payment made to you;

(ii) compensation in recovery of the loss suffered by UC Union, including but not limited to loss of UC Union's good will, loss of users of UC Union Product(s), removal of UC Union Product(s) from Google Play or Apple Store, and any other loss as a result of your Malicious Promotion;

(iii) require you to CLARIFY the facts for elimination of the negative impact shed upon UC Union; and

(iv) resort to any other legal measures if necessary.

UC Union is looking forward to cooperating and developing with you in a healthy UC Union ecosphere.
While there is no official confirmation about the ban so far, a Twitter users who claims to work for UC Browser said that the delisting of the app would be in effect for 30 days.
I work for UC Browser,I got mail today morning it said that UC Browser was temporarily removed from play store for 30 days because it used "Misleading" and "Unhealthy" methods of promotion to increase installs

— Mike Ross (@SKz_14) November 14, 2017
Despite growing popularity in India, UC Browser came under the government radar in August for allegedly leaking sensitive data to China. The app was accused of diverting a massive amount of user search details and sensitive data like IMSI (international mobile subscriber identity), IMEI (international mobile equipment identity) numbers and location information to a remote server in China.