The Indian government has commenced probe on Hangzhou-based Alibaba's UC Web browser over possible data leakages to a remote server in China.
Popular mobile application UC Web Browser, which has more than 50 percent market share is accused of diverting a massive amount of user search details and also sensitive data such as device identifiers like IMSI (international mobile subscriber identity), IMEI (international mobile equipment identity) numbers and location information to a remote server in China.
Furthermore, UC Web Browser is also said to be accumulating Wi-Fi's access point's network information when user's phone connects to the internet via a wireless router and sending that information to China.
This is a very serious allegation as UC Browser is said to be installed in more than 50 million mobile phones (as per StatCounter) in India and if proved, Alibaba's mobile app will get banned.
Currently, it is being investigated by the Hyderabad unit of the Centre for Development of Advanced Computing (C-DAC), which falls under the Ministry of Electronics and IT (MEITY) Union Ministry of Electronics and IT (MeitY).
Earlier in the month, the Indian government asked top 21 smartphone brands, most of them Chinese, to send the details of their infrastructure and processes they follow to ensure the security of the devices.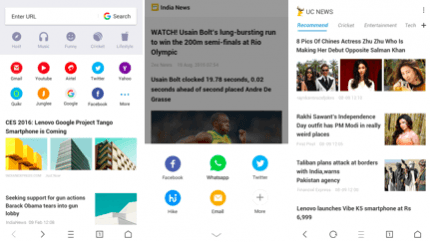 India's increasing scrutiny of Chinese-origin companies comes amidst the two-month (and continuing) Doklam stand-off wherein China is accused of trying to build roads near the Doka La pass and encroach Bhutan area, which is guarded by the Indian army.
After making rhetoric remarks against India through media, China seems to have mellowed down its approach after Japan sided with India and other developed countries chose to remain neutral and asked the sparing countries to curb the military standoff through dialogue.
Having said that, the Indian government's plan to send notices to mobile-makers and application developers is a move to improve country's cyber security and also to thwart hacking and ransomware attack, as the country's internet using population is increasing.
Read more: Deadly Mamba, Locky ransomware set to strike again, including India; here's how to safeguard your devices
Watch this space to know further developments regarding this story.