Facebook has found itself in hot waters after the world's largest social networking giant was embroiled in a data leak controversy involving British data analysis firm Cambridge Analytica, which is accused of stealing the data of more than 50 million Facebook users.
This has affected Facebook not just in a financial and a legal way. Several online movements are encouraging users to delete their Facebook profiles.
The #deletefacebook movement has been gaining traction over time, and the latest one to join to protest has a brief history with Facebook. Brian Acton, the co-founder of WhatsApp who left the company to start his own non-profit foundation after Facebook bought the messaging platform for $16 billion in 2014, has a message for all of his followers on Twitter.
The brief tweet raised more questions than answers. While it's evident Acton supports the viral cause over security concerns, he doesn't reveal if his feelings extend to the app he co-founded with Jan Koum, who continues to lead the operations at WhatsApp.
WhatsApp was under investigation by the Information Commissioner's Office (ICO) last year, which resulted in the messaging app agreeing to stop sharing users' personal data with Facebook.
WhatsApp has also signed an undertaking saying it would not share EU users' data with Facebook until the General Data Protection Regulation (GDPR), which comes into force May 25.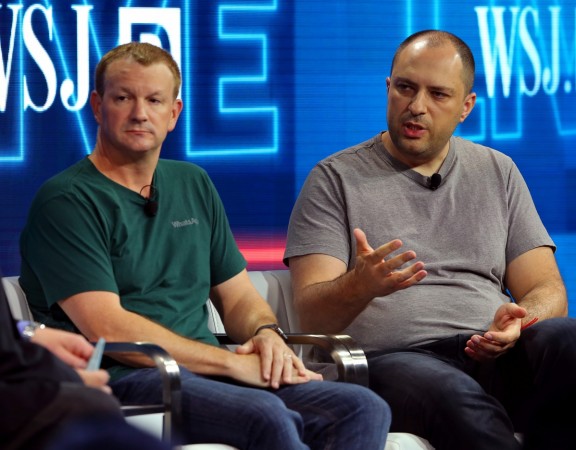 The data leak controversy has given sleepless nights to everyone at Facebook. The plunging stock prices and regulators' scrutiny have escalated the matter, leading Facebook CEO Mark Zuckerberg to release a statement saying: "Mark, Sheryl [Sandberg, Facebook COO] and their teams are working around the clock to get all the facts and take the appropriate action moving forward because they understand the seriousness of this issue."
The company, according to The Daily Beast, also said: "The entire company is outraged we were deceived. We are committed to vigorously enforcing our policies to protect people's information and will take whatever steps are required to see that this happens."
Acton isn't the first former employee to express displeasure about Facebook. Chamath Palihapitiya, former head of growth at Facebook, recently revealed the company had created tools that are destroying the society.
Other former execs to have expressed displeasure about the company include Sean Parker, Justin Rosenstein, and investor Roger McNamee, The Verge reported.