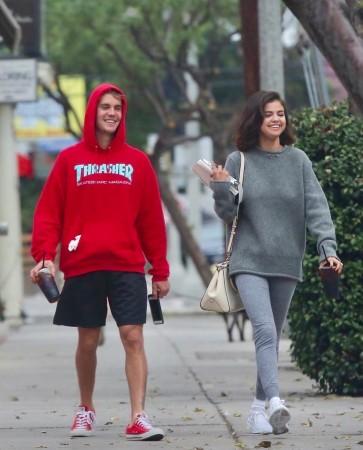 Selena Gomez and Justin Bieber getting back together won over the hearts of many, but the rate at which the two are going steady will shock you just as much.
Justin's mother Pattie Mallette was all praises about her son's relationship with the 25-year-old singer and speaking to People magazine, she couldn't stop gushing about the two getting back together, and her love for Selena.
Also read: Are Selena Gomez and Justin Bieber moving in together?
"I don't know so much about their personal relationship because he doesn't share a whole lot, but I love her," she told the outlet.
Yet that wasn't all because she also continued, elaborating on the bond she shared with Selena.
"I support anything [he does], if he loves her I love her, and I've met her and we have a special bond so I think she's precious. I can't really speak on their relationship, that's between them."
Malette also told People that Justin, 23, singer is trying to figure out a balance in his life as the "Sorry" singer cancelled his tour to focus on his mental health. "I think he's just keeping his focus on God, and really trying to figure out what counts and what matters," Malette said.
"I think he's trying to be somehow normal in such an abnormal world, trying to find that balance. I feel like he's growing up and I'm really proud of him," she added.
And while she didn't spill many juicy insights on his rekindled romance with Selena, she sure did hint how much being involved with her and having her as a partner is helping him progress.
"I think anyone with real love in their life is more grounded," she said. "I think there's so much confusion sometimes and facade in this Hollywood world, and so it's important for us to find the ones that truly care and stick with them."
While the world has still been awaiting official confirmation – an Instagram post at the least – from the singers themselves, about their reconciled relationship, Selena and Justin have been quite busy accepting honours and indulging in philanthropy, respectively.
Recently, Selena was honoured with the Billboard's Woman of the Year 2017 award and at the event, she dropped possible hints about the on-again romance. Insiders have also reported that Justin has almost moved in with her and the two can't wait to start a family.
Here's hoping for some official announcements to come soon!