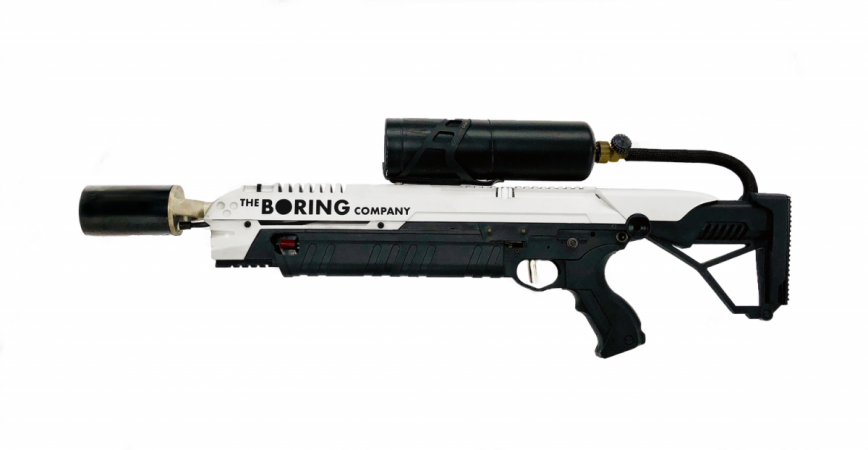 Elon Musk -- the enigmatic billionaire who cut his teeth by founding PayPal before giving the world Tesla Motors and SpaceX -- is currently burning up the Internet with the promise of selling a flamethrower! The fire extinguishers cost extra, though.
Musk, who has taken the world by strong by being a pioneer in electric vehicles with Tesla Motors and looks to take a leading role in space exploration with a proposed Mars mission by SpaceX, is currently in the news because The Boring Company -- an infrastructure and tunnel construction -- is currently doing brisk business by selling flamethrowers!
Here are 10 things to know about what Musk and his Boring Company are selling:
1. Musk has said The Boring Company has 20,000 flamethrowers to sell. He is currently giving live updates of how many of these flamethrowers have been sold.
2. Musk has also provided some caveats for the flamethrowers.
He says a flamethrower is a "super terrible idea." Musk adds: "Definitely don't buy one. Unless you like fun."
3. But what are the dangers? Musk says that according to the US Bureau of Alcohol, Tobacco, Firearms and Explosives -- ATF for short -- any flamethrower whose flame is less than 10 feet long is safe.
However, IBTimes India could not find any such regulation on the ATF website.
ATF says any flamethrower with a flame shorter than 10 ft is A-ok. Our design is max fun for least danger. I'd be way more scared of a steak knife.

— Elon Musk (@elonmusk) January 28, 2018
4. So how much does this flamethrower cost? $500, says the official website. "Taxes and shipping will be added at checkout," it adds.
The flamethrower is being shipped not just within the US but outside as well! "Additional customs fees may apply for international orders because of laws," says the website.
It adds: "International customers can receive a full refund if not happy with said fees."
5. But isn't a fire extinguisher dangerous? As in, what happens if something catches fire?
The Boring Company seems to have customers covered on that front as well! "Buy an overpriced Boring Company fire extinguisher! You can definitely buy one for less elsewhere, but this one comes with a cool sticker and the button is conveniently riiight above," it says on the website.
The fire extinguisher costs a further $30. We assume this does not include the aforementioned additional taxes and extra international fees.
6. However, it seems with great "fun" come great responsibilities. "Before shipping, aspiring flamethrower aficionados will be sent a terms and conditions rhyme for review and acceptance," says the website. The shipping begins in Spring.
7. And it seems the flamethrower cannot be used just about anywhere! "May not be used on Boring Company decorative lacquered hay bales or Boring Company dockside munitions warehouses," says the website.
8. So why would these flamethrowers even be necessary? Some speculated that Musk was in the process of creating a zombie army to drive up sales.
As with almost everything else, Musk had an answer ready here as well.
You'd need millions of zombies for a so-called "apocalypse" anyway. Where would I even get a factory big enough to make so many!?

— Elon Musk (@elonmusk) January 28, 2018
9. But us that all? Musk seems to have another ace up his sleeve with the flamethrower!
But wait, there's more: the flamethrower is sentient, its safe word is "cryptocurrency" and it comes with a free blockchain

— Elon Musk (@elonmusk) January 29, 2018
10. And, as is wont of the Internet, the move has sparked off memes in all corners.
It didn't help that Musk had announced the sale of these flamethrowers after the stock of 50,000 The Boring Company hats ran out.