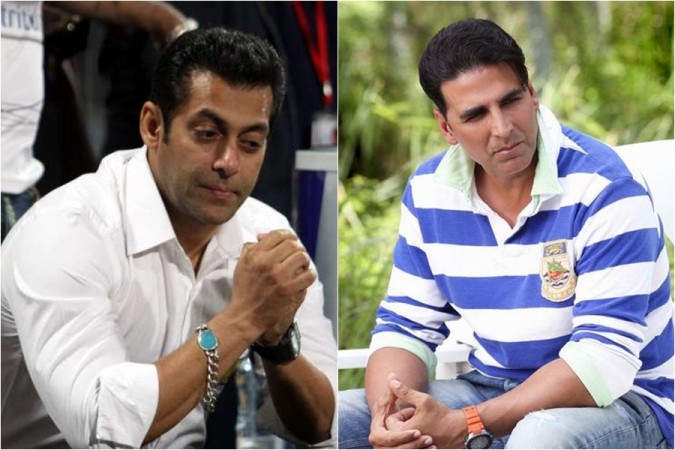 Salman Khan's Bigg Boss show has always been a huge platform for Bollywood celebrities to promote their upcoming films and Bigg Boss 11 is no different.
Padmavat vs Padman? Bigg Boss' take on the clash is brilliant, RGV brings out the humour
While a lot of stars have already made appearances on the controversial show, the grand finale episode (January 14) will see Salman's good friend Akshay Kumar promoting his movie Padman, Mumbai Mirror reported.
The news has come as a surprise as recent reports claimed that Salman and Akshay were not in good terms because of the latter's movie Kesari. Salman and Karan Johar were supposed to co-produce the movie but the former backed out of the project.
This is what Akshay Kumar has to say about wearing pink panties with sanitary napkins in Padman
However, a source refuted the reports of the fallout between the stars and revealed that they will be performing on one of their hit numbers, probably the title track of Mujhse Shaadi Karogi, which starred Salman, Akshay and Priyanka Chopra.
The Khiladi actor will also spend some time with the three finalists of the season and give them certain tasks to perform. The episode will be shot in the early hours of January 14. The show's team is also in talks with Akshay's Padman co-star Sonam Kapoor to join him for the episode.
Coming back to Kesari, Akshay's first look in the film was unveiled last week. The actor looks unrecognisable in a traditional Sikh look. Going by the poster, Akshay seems to be the perfect choice for the role of Havildar Ishar Singh.
The film is based on The Battle of Saragarhi, which was fought by 21 Sikhs of the 4th Battalion of the Sikh Regiment on September 12, 1897, against 10,000 Afghans. The Sikhs — led by Havildar Ishar Singh — fought to death in the battle. Sikh military personnel commemorate the battle as Saragarhi Day on September 12.
Coming to Padman, the movie will tell the story of Arunachalam Muruganantham, the man who revolutionised the concept of menstrual hygiene in rural India by creating a low-cost sanitary napkin machine.
Akshay plays the role of Arunachalam Muruganantham. Set to release on January 25, the movie also stars Sonam and Radhika Apte.