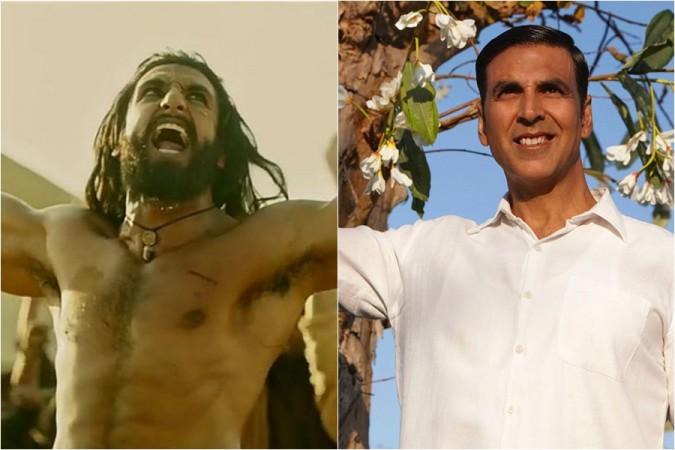 Amitabh Bachchan sure knows how to give a perfect take on an issue. His recent tweet is a perfect example of the same. He tweeted: "T 2526 - 'PADMA' the operative key word for film release on 26th Jan 2018 : PADMAvat & PADMAn .. !!" [sic.]
But we are wondering why the badly photoshopped picture along with a brilliant post like that?
Meanwhile, even Ram Gopal Verma's take is hilarious! He tweeted: "Padm(a)n(v)at is an inspiring period story about periods" [sic.]
Padm(a)n(v)at is an inspiring period story about periods

— Ram Gopal Varma (@RGVzoomin) January 9, 2018
Which one do you want to go with?
Talking about the clash, there is no official confirmation from the makers that Padmavat is releasing on January 25 with Akshay Kumar's Padman but the speculations are strong as Trade Analyst Taran Adarsh tweeted yesterday that the clash is unavoidable.
But our question is, why are the makers of Padmavat not making it official and why such a mystery behind it?
The latest update on Sanjay Leela Bhansali's film "Padmavati" — not titled as "Padmavat" — will not be released in Rajasthan, chief minister Vasundhara Raje said on Monday.
Raje said in a statement that respecting the sentiments of the people of the state, the movie will not be screened in any cinema hall in Rajasthan.
"Rani Padmini is our self-respect and we will not let it hurt in any case. Directions in this regard have been given to Rajasthan Home minister....Rani Padmini's sacrifice is a matter of honour and pride for the state and hence Rani Padmini is not just a chapter in history but our dignity. We will not allow defamation of her honour," read the statement.
Karni Sena has also made it clear that they will protest against the film at any cost.