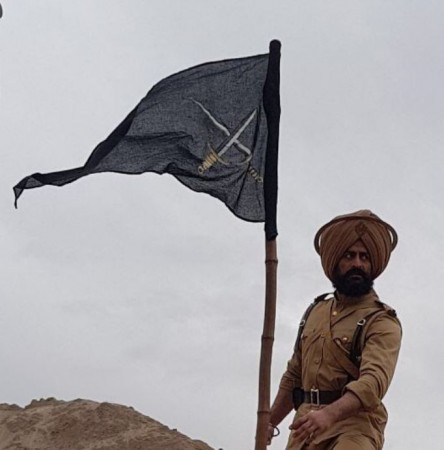 Even as fans of Akshay Kumar are going crazy on Twitter with the actor's look from Kesari, Discovery JEET also unveiled the look of TV actor Mohit Raina as Havildar Ishar Singh.
Both the film and TV series makers decided to unveil the first look on January 5 as it marks the birth anniversary of Guru Gobind Singh Ji, who is the tenth guru of the Sikhs and the founder of the Khalsa community.
Akshay Kumar Kesari first look: His furious avatar will definitely give you goosebumps [PHOTO]
In the picture, Mohit with a beefed up body, looks like a mighty warrior. The TV show is titled 21 Sarfarosh: Saragarhi 1897 and is based on the Battle of Saragarhi.
Produced by Abhimanyu Singh's Contiloe Pictures, the shooting of the show is going on in Aamgaon, Gujarat, for the past several months and will soon go on air.
Talking about the show, Mohit Raina said, "I have always been fascinated by defence services. As a student of an Army school, I was always surrounded by men of discipline and repute. It is an honour to play a Hawildar who laid his life for his motherland. To look the part was the most challenging task, but the research/creative team has done a wonderful job. The minuscule details were taken care of by them. I hope the audience likes the first look and accepts the part," Bollywood Life reported.
The film is based on The Battle of Saragarhi, which was fought by 21 Sikhs of the 4th Battalion of the Sikh Regiment on September 12, 1897, against 10,000 Afghans. The Sikhs — led by Havildar Ishar Singh — fought to death in the battle. Sikh military personnel commemorate the battle as Saragarhi Day on September 12.
This year, besides the TV show, Bollywood is also gearing up for three movies based on Battle of Saragarhi. Besides Akshay's Kesari, there is one featuring Randeep Hooda helmed by Rajkumar Santoshi and the other starring Ajay Devgn.
It was on Friday early morning that Akshay revealed the first look of Kesari. In the picture, the Khiladi actor looks unrecognisable as he dons the traditional Sikh look. Going by the poster, Akshay seems to be the perfect choice for the role of Havildar Ishar Singh.
Akshay took to Twitter to reveal his look. He captioned it as "Feeling nothing but immense pride and gratitude while sharing this. Beginning my 2018 with #KESARI, my most ambitious film and a lot of passion. Need your best wishes as always "
The female lead will be played by Parineeti Chopra. According to Mumbai Mirror, the stunts in the movie will be choreographed by Lawrence Woodward, who had worked on films like Mad Max: Fury Road. Hence, a lot of death-defying stunts are expected in the film.
Kesari was earlier supposed to be a joint production by Salman Khan and Karan Johar but the former backed out.