Arjun Tendulkar, son of legendary batsman Sachin, picked up his first wicket for India on his U-19 debut in the ongoing tour of Sri Lanka on Tuesday, July 17 in Colombo.
The 18-year-old opened the bowling for India in the first of the two youth Tests against Sri Lanka U-19 at the Nondescripts Cricket Club Ground in Colombo.
In the final ball of his very second over, the left-arm pacer trapped Sri Lanka's Kamil Mishra in front. The tall fast bowler got the ball to swing into the left-handed batsman and the umpire had no hesitation to rule in favour of the bowler.
Watch video
Arjun had bowled 11 overs as of 3 pm IST on Tuesday. With two maidens in 11 overs, the Mumbai teenager has conceded 33 runs.
Wickets from Harsh Tyagi, Ayush Badoni, Mohit Jangra, and Arjun have left Sri Lanka U-19 at 209 for 6 in 58 overs.
Coached by WV Raman and led by Anuj Rawat, the Indian U-19 team will play another Youth Test before playing five one-day matches in the island nation. Arjun will not be a part of the limited-overs fixtures.
Arjun faced criticism despite impressive performances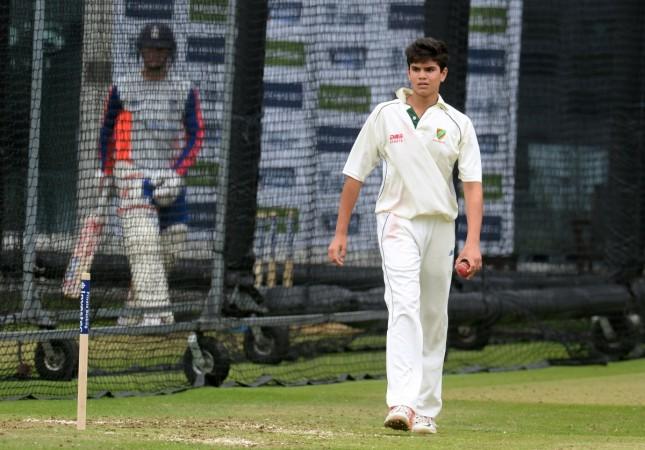 The 18-year-old had earned his maiden U-19 call-up after impressing in last year's Cooch Behar Trophy, the national U-19 tournament in India. He picked up 18 wickets and showcased his ability to swing the ball both ways.
Despite impressive performances at the age-group level, Arjun faced criticism over his selection to the India U-19 team as quite a few cricket fans on Twitter alleged nepotism.
Arjun is 'nippy', has a 'deceptive bouncer'
However, Mumbai U-19 coach Satish Samant pointed out that Arjun had progressed tremendously over the last few months, heaping praise on his overall skills.
"He is nippy. His release is good. It's a high-arm action. He's tall as well," Samant was quoted as saying by The Indian Express after Arjun's selection.
"In terms of swing, especially bringing the ball back into the right-hander, he's become a lot more accurate and hits the right areas.
"He's also got a deceptive bouncer. His overall skills are good. He has got a good yorker and a slower one from the back of the hand."
Notably, Arjun was spotted bowling at Virat Kohli & Co. as a net bowler in London ahead of India's ongoing tour of the United Kingdom.
He has had the privilege of being the net bowler during Indian cricketer team's overseas tours to Australia and England in the past.