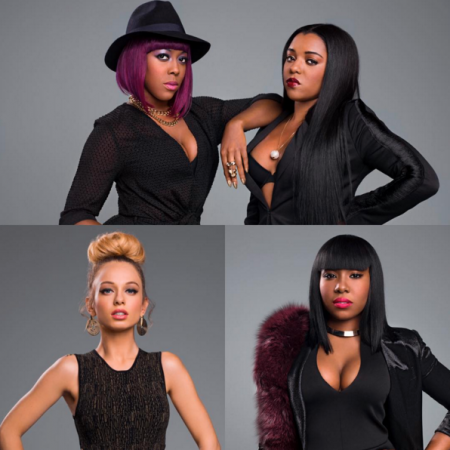 Season 6 of "Love and Hip Hop: New York" has come to an end with the first part of the "Reunion" episode airing Monday, March 14, 2016. This season of the Vh1 reality has had quite a few storylines, and while most of it was wrapped up in Episode 12, "Love Conquers All," the rest of them will be addressed in "Reunion" part 1 and 2.
Interestingly, Vh1 has not released a promotional video for the show, although during the taping of the episodes, they did share photos of the celebrities. Regardless, it has been reported by International Business Times U.S. that along with the Peter Gunz family drama and DJ Self love triangle, MariahLynn's beef with BBOD (Bad B-----s on Deck) will see a new level of aggression.
It is understood that the "Once Upon a Time" rapper who exposed Miss Moe Money of BBOD as a "bona fide cheese eater" in Episode 10 of the season, will get into a very physical fight with the other half of the rap duo, Sexxy Lexxy, at "Reunion."
Also Read: Chi Chi DeVayne, Acid Betty bump heads in 'RuPaul's Drag Race'
Although a newcomer to the show, MariahLynn quickly became one of the most compelling characters on "LHHNY," with even veteran rapper Remy Ma saying, "Yo! I like this little b---c more and more." Her close friends Cardi B and Young B, who are united in their hatred towards BBOD, are the most entertaining bunch on the show.
In this season, MariahLynn also proved that being creepy is not just the men's right. She infiltrated the creep squad by playing both Cisco and Rich Dollaz at the same time. In fact, she may have already planted the seeds for a creepette squad featuring Cardi B and Young B, to debut in Season 7.
Watch Season 6 Episode 13 of "Love and Hip Hop: New York" at 8 p.m. (EST) on Monday. You can also live stream "Reunion: Part One" via VH1 website. For clips from previous episodes of "Love and Hip Hop New York", visit WhipClip.