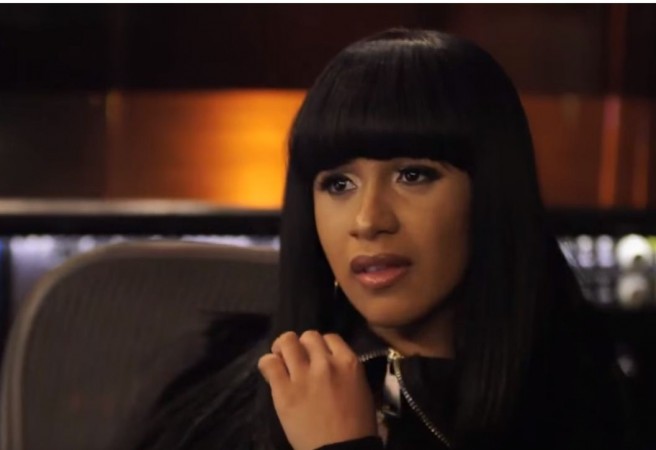 "Love and Hip Hop New York" is back Monday, Feb. 22, 2016, after a week-long break, and fans can definitely expect to catch up on their weekly dose of drama with Season 6 Episode 10. In "Showcase Showdown", Cardi B learns DJ Self had not asked her to perform at the "gwenin' event".
In a promo clip from Season 6 Episode 10 of "Love and Hip Hop New York", MariahLynn is seen listening to her new BFF Cardi's record. She later asks Cardi if that is the record she is planning to perform at the event, and when Cardi has no idea what event Mariah is talking about, the latter calls it the "gwenin' performance".
It becomes evident to the stripper that DJ Self has no intention of promoting her music, despite the sweet talk. When she confronts him about it, Self says, "Girl, your sh*t is garbage". Self has told the cameras many times he has no interest in Cardi's music, and the only thing she is good at is pole tricks.
Meanwhile, Mariah is seen threatening Miss Moe Money with a piece a paper at the showcase. What evidence the paper holds is not revealed, but the two women are seen getting into a fight soon after. BBOS' other half, Sexxy Lexxy, is seen tearing the paper into pieces and letting it fall off her hands, and bouncers escort Mariah away. However the shreds of Mariah's extensions are seen lying on the floor.
"Love and Hip Hop New York" may usually capture the more dramatic and animated scenes from the lives of these artists, but they do have a soft and light side too, as proved by Peter Gunz. Season 6 of the reality show had taken the love triangle to a whole new level, when Peter's wife and ex-girlfriend got pregnant at the same time.
However it looks like the mothers have become a little forgiving, and their kids are seen playing together. Amina's daughter with Peter, Cori, and Tara's son with Peter, Kaz, was seen playing together while waiting for table at a restaurant. The sweet moment was captured by Peter and shared on Instagram.
Watch Season 6 Episode 10 of "Love and Hip Hop New York" at 8 p.m. (EST) Monday, Feb. 22, 2016. You can also live-stream "Showcase Showdown" via Vh1 website. For clips from previous episodes of "Love and Hip Hop New York", visit WhipClip.