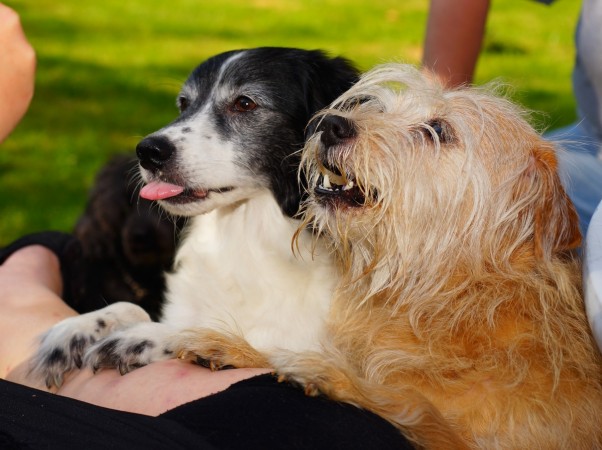 Dogs might be man's best friend, but their loyalty knows no bounds – be it towards the family that adopts them, or their own playmates.
And this video only goes on to prove the kindness and compassion that dogs are full off – as residents of a Chinese city witnessed the heartwarming reaction of a faithful dog, trying to revive his playmate which seems to have died from a hit and run accident.
The video shows two dogs – one black and another of a yellowish tinge – and the black one is seen trying to drag its dead friend to the pavement before it starts nudging it repeatedly, in the hopes of waking it up.
As bjnews reported, the video was captured in Yibin, south-west China's Sichuan Province. The yellow dog was knocked down and killed while running across a road in front of a hotel, said the report.
The car that hit the pooch must have driven away without stopping, leaving the yellow dog twitching in the middle of the road. As cruel as it seems – none of the passing drivers or pedestrians stopped to check up on it.
The video, which was initially shared by bjnews, showed three of its playmates coming to check on the yellow dog while it spent its last moments struggling. A worker from a nearby shop, Ms Zhang, shared with bjnews that she saw the black dog shaking its dead companion, sometime around 1pm.
As per local residents, the two dogs were often seen playing together. Fortunately, a staff from a local vet later arrived and dealt with the dead body of the yellow dog, as Ms Zhang said.
Sadly enough, there is no law in China that protects dogs and other small animals, as Daily Mail reported. Their public awareness of dog's well being is also relatively low, compared to the western countries.
Shockingly, an undercover investigation by PETA Asia revealed how purebred dogs in China were squeezed into tiny, rusty cages by breeders who kept them in filthy conditions and forced them to reproduce non-stop.
About thirteen dog breeding farms in Shanghai, Guangdong Province, and Shandong Province were exposed.