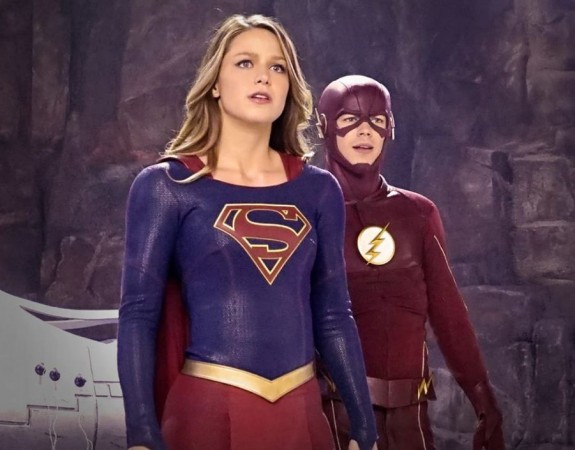 "The Flash" Season 2 is coming to an end with the finale episode 23 on Tuesday, May 24. Along with bringing closure to the Flash vs Zoom fight, "The Race of His Life" will also hopefully open the door for Kara Zor-El (Melissa Benoist) to enter the CW comic book universe. In the previously aired Season 2 episode 22, fans saw Zoom (Teddy Sears) killing Henry Allen (John Wesley Shipp) to prove to Barry (Grant Gustin) that they are not so different.
The episode also saw Wally (Keiynan Lonsdale) learning that Barry is actually the Flash. The promo for the finale episode is centred on this realisation and he telling Barry about how much the Flash has helped the people of Central City. Learning Barry's superhero identity may propel Wally to become a superhero in the near future, along with Jesse (Violett Beane), who are both expected to become speedsters in the near future.
The promo for "The Race of His Life" also reveals Zoom's plan to take every other planet in the multiverse and wreak havoc on Earth-1. "This power amplifier could be easily weaponised," Wells (Tom Cavanaugh) explains to the rest of Team Flash.
Also Read: New storybook characters set to debut in 'Once Upon a Time' Season 6
In what initially seems like a bizarre demand, Zoom challenges Barry to a race-off with him in the finale. However, the team realises Zoom actually wants to to charge the power amplifier with the energy Barry creates when he runs. It remains to be seen how Barry will stop Zoom from destroying the other worlds, but we do know that Cisco (Carlos Valdes) will be key to whatever plan he has.
It is almost certain that this storyline is how Supergirl's earth will become a part of the Arrowverse. It will allow "Supergirl" to cross over with "The Flash" Season 3, "Arrow" Season 5 and "Legends of Tomorrow" Season 2. "The Flash" Season 2 finale is very similar to the "Crisis on Infinite Earths" plot from the comic books.
Although the Flash died in the books in the crisis, the TV show may not go through with the exact events. However, being a speedster, Flash can die, get absorbed into the speed force and then return during a new crisis.
It would certainly allow Wally and Jesse to step up and become speedsters in their own right. However, it doesn't seem like "The Flash" ready to part with Gustin any time soon.
Watch Season 2 episode 23 of "The Flash" at 8 p.m. (EST) on Tuesday, May 24. You can also watch "The Race of His Life" online via CWINGO and The CW Seed.
Here is the official synopsis for Season 2 episode 22 of "The Flash:"
When Zoom (Teddy Sears) finally reveals his true plan, Barry (Grant Gustin) is more determined than ever to stop him.