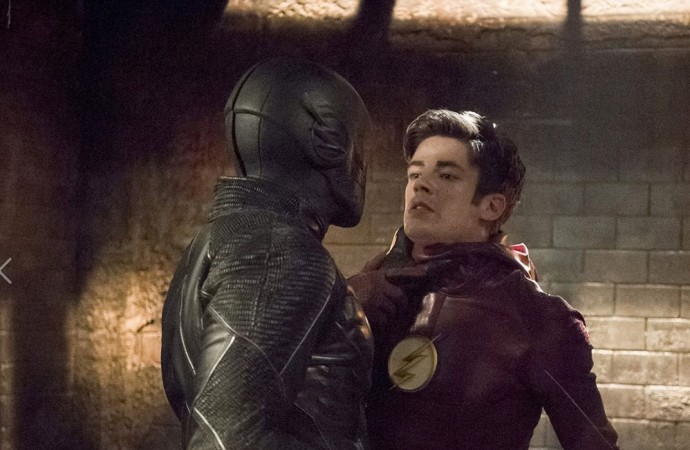 "The Flash" Season 2 is coming to an end with the upcoming episode 23 titled "The Race of His Life." As the title suggests, the finale episode will see Barry (Grant Gustin) racing against Zoom (Teddy Sears), after the villainous speedster reveals his master plan.
Spoiler Alert
In the previously-aired "Invincible," we saw Barry's cockiness cost him his father Henry's (John Wesley Shipp) life. Zoom wanted to relive the same tragedy Hunter Zolomon [Zoom's past name] went through as a child, and to that end, he kills Henry.
The impact of the tragic death was worsened by the fact that it happened right after we got a glimpse of romance in his life during his interactions with Dr McGee (Amanda Pays). The last conversation he had with Barry was also a fight, which made it extremely devastating for the speedster to watch his death.
Also Read: Kim Kardashian promises to share naked selfies till she dies
This episode further reinstates that our heroes of Earth-1 turned out so mainly because of the support system they enjoy and the people who love them. Barry could very well have become the Zoom of Earth-1 and Caitlin (Danielle Panabaker) could have turned to the dark side following her captivity, but they are relatively okay, thanks to their friends.
However, Henry's death will be a driving force in Barry's future actions. The synopsis for the upcoming "The Race of His Life" reads: "When Zoom (Teddy Sears) finally reveals his true plan, Barry (Grant Gustin) is more determined than ever to stop him."
Meanwhile, Cisco's (Carlos Valdes) dream about an impending apocalypse looms over Team Flash. Despite Henry's death, "Invincible" was an underwhelming episode, considering it is the penultimate episode of the season. It almost seemed like a regular "The Flash" episode, so here is to hoping that the showrunners will make up for it by creating a finale episode that is twice as b----- as the Season 1 finale.
Watch the trailer for "The Flash" Season 2 episode 23 "The Race of His Life," which will be aired at 8 p.m. (EST) on Tuesday, May 24. It has been shared by The Flash 4K via Youtube.