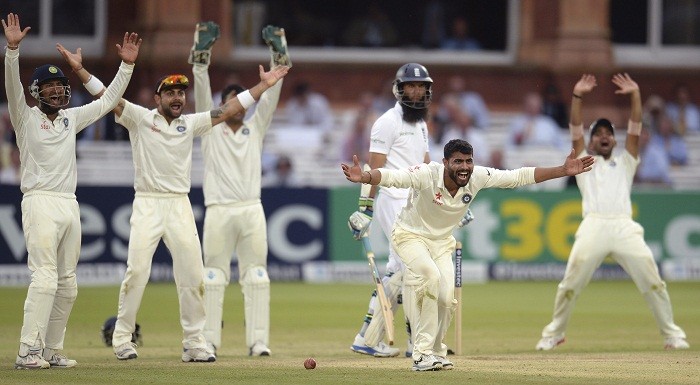 India are on the front foot in the second Test against England at Lord's – all that remains now is to go for the kill and whether this MS Dhoni-led side have that killer instinct in them to finish off games away from home will be seen come Day 5 on Monday.
Where to Watch Live
Get the Ishant/Dhoni story HERE
Get the report HERE
Watch the second Test on the Star Sports network, with live coverage beginning from 2.30 pm IST. Day 5 is scheduled to start at 3.30 pm IST (11 am BST) with the free live streaming option in India on Starsports.com. Viewers in the US can catch the action in ESPN 3 or by catching a live stream HERE. UK viewers can watch the match on Sky Sports 2, while the match can also be live streamed HERE or HERE.
With England precariously placed at 105 for four in 46 overs, with a further 214 runs needed for victory, India hold all the aces, with the primary one being Ravindra Jadeja, who, after an outstanding counter-attacking half-century to take India well beyond 300, made full use of the rough created over the past four days.
Jadeja, with the ball spinning and bouncing from that rough, will undoubtedly be the biggest threat for England with the ball, and if the hosts are to pull off a remarkable victory, or even a draw, then much will depend on how they play the left-arm spinner.
"When I was batting I had the feeling that I would be asked to bowl pretty early," Jadeja, who picked up a wicket off his very first ball, after coming on in the seventh over of the innings, told BCCI's official website. "Being a left-hander myself, I knew exactly how the footmarks were affecting me and that's when I started to make my bowling plans."
England have Joe Root, capable of playing the long innings, and Moeen Ali, who made a fighting century against Sri Lanka from such a position, currently at the crease, and the hosts will want the right and left-hand combination to bat for as long as possible on Day 5.
Both players, though, did struggle to negotiate Jadeja's turn, with Ali, in particular, extremely lucky on a couple of occasions to survive. "Mo is not out and got a hundred batting all day at Headingley," assistant coach Paul Fabrace, referring to the match against Sri Lanka when England went down in the final over, told ECB's official website.
"There was a lot of people that turned up at Headingley that day, and perhaps a lot of people that didn't turn up, that gave us no chance at 7.10pm when we were still fighting for our lives to stay in that game.
"We have got to take a lot of impetus and a lot of belief from that. I'm sure Mo and Rooty will do. Rooty enjoys batting here, he gets runs here, so I think they will be both looking forward to tomorrow.
"There is no point turning up if you haven't got that belief. There is no point playing these games if you don't have the belief. The belief will always be there, you have just got to keep fighting hard. Sometimes, you have to dig a little deeper than you would like to."
If the two England batsmen bat the entire first session, then the match could turn. The longer the set batsmen stay at the crease, the more frustrated the India bowlers are likely to get. So, from India's point of view, it will be essential that they remain patient, not press the panic button and back their abilities to pick up those six wickets needed for a mammoth victory.