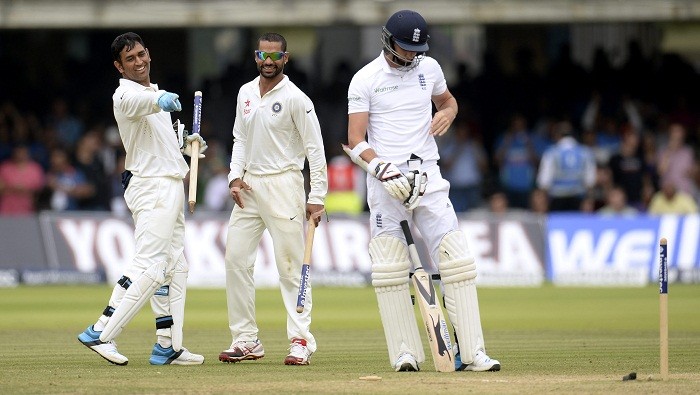 MS Dhoni, the man who has shown, time and again, just how to be a defensive captain in Test cricket. If a team is chasing down a score in the fourth innings, and strikes one boundary to a vacant area, good money will be on a close-in fielder moving to that exact spot where the ball whizzed into boundary ropes. That is how Dhoni thinks, how his instincts play in the five-day game – do not leak runs, or the match could go out of your hand quickly. For Dhoni in Tests, batting and captaining come the same way – with that tentative, defensive, "I don't wanna get out/I don't wanna give away too many runs mind set."
In many ways it is because of his lack of confidence in his bowlers, especially the pacemen, away from home. Dhoni just has not shown that gumption needed to tell his bowlers "all right guys, don't worry about the boundaries, let's stick to this plan of attack, and sooner rather than later we will get the wickets."
Until Monday at Lord's against England, that is.
Day 5 of the second Test showed Dhoni at his attacking/let's-stick-to-the-plan-come-what-may best, the kind of captain we have come to see and love in the limited overs format.
With the match slowly swaying England's way as Joe Root and Moeen Ali threatened to go into Lunch without giving away a single wicket in the entire first session, Dhoni, out of desperation and determination, called out his most-maligned bowler – the lanky, long-haired pacer, who has time and again borne the brunt of critics and that batsman's willow.
Ishant Sharma, true to form, wasn't comfortable with Dhoni's plan – bowl short, bowl fast and make the batsmen play a different shot for once, rather than just allowing them to dictate the pace of the game.
The first couple of balls, of the final over before Lunch, you could see that tentativeness in Ishant; he clearly did not want to do this. But Dhoni was adamant, and when a captain of Dhoni's stature is so sure about something, you just go with it, or he forces you to.
And boy was every single India fan glad that Ishant had to bowl short – an absolute ripper of a bouncer off the last ball before Lunch, and Ali, so assured, so compact, so easy-looking against fast bowling, was suddenly turned into a tail-ender – closing his eyes, turning his face away, and looking to fend the ball with his glove or bat. The result was a nice loopy catch to Cheteshwar Pujara at forward short leg. And from there the floodgates opened, and how.
"To start off with, it was very difficult to convince him," Dhoni said. "When he first came on to bowl, I asked him to bowl short, and he turned the other way.
"Then I set the field for him so that he couldn't even think of bowling up. So the strategy was to give him a field so he is forced to bowl the length that I wanted him to bowl."
"It worked, and once he got Moeen's wicket he was eager enough to try that attack for a consistent period of time. He works really hard on his fitness and on his bowling and doesn't shy away from bowling long spells.
"Whenever you ask him to bowl, whatever situation, he gives his 100 percent. There is no reason why he shouldn't test this line of attack. He will have to bowl a high number of overs outside India so he will have to bowl short because he has the height so he can exploit the bounce and put pressure on batsmen. He can add this to his armoury because it is definitely difficult to convince him."
Ishant was the only option Dhoni had if India were going to stick with this plan – as Mohammed Shami showed soon after Lunch, he does not have the height to trouble the batsmen, even the England batsmen, with the short delivery. It was Ishant or pray the new ball, which was due four overs after Lunch, would get India home.
And for pretty much those entire four overs, England looked in control as Matt Prior took on the short stuff and carted the ball around for boundaries, with Root also getting in on the act.
Then came the fifth ball of the 80th over, the final over before the new ball was due – and Dhoni would have taken it had the crucial wicket not fallen. The man to oblige India was Prior, going for the hook to a short delivery outside off, and finding a gleeful Murali Vijay in the deep.
From there, it was England giving away early Diwali gifts to the Indians – Ishant bowls short, the batsman pulls, the ball goes in the air to the deep, and the fielder catches it, India win.