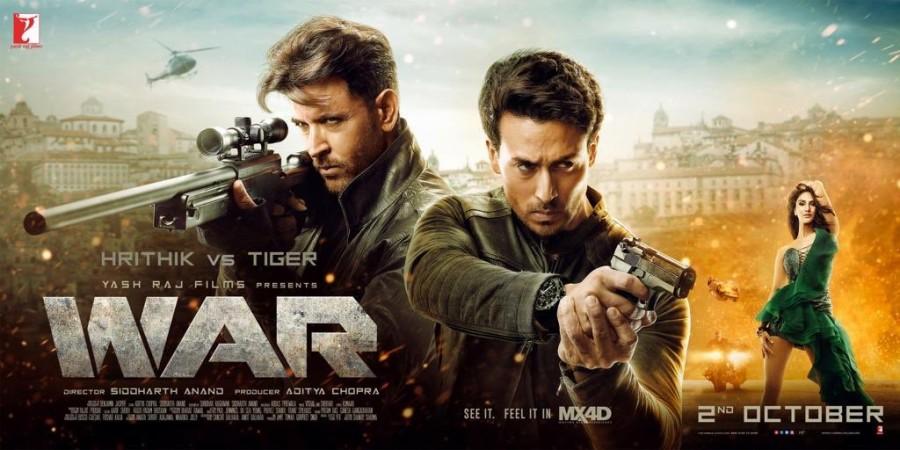 Director Siddharth Anand's Hindi movie War featuring Hrithik Roshan, Tiger Shroff and Vaani Kapoor in the lead roles, has received positive review and ratings from the audience around the world.
War is an action thriller film, which has been produced by Aditya Chopra under the banner Yash Raj Films. Siddharth Anand has written story with Aditya Chopra and screenplay with Shridhar Raghavan, while Abbas Tyrewala penned the dialogues for the movie, which has received a U/A certificate from the censor board and its runtime is 2.36 hours.
War movie story: It is about Indian soldier Kabir (Hrithik Roshan), who has worked as a special agent. After he becomes a rogue, his student Khalid (Tiger Shroff) is assigned to eliminate. The reason for Kabir to turn a rogue and how Khalid stops him form the crux of the story of the film.
Performances: Hrithik Roshan and Tiger Shroff have delivered electrifying performances and the confrontations scenes between the two are the highlights of War. Vaani Kapoor, Ashutosh Rana, Dipannita Sharma and Anupriya Goenka have done justice to their respective roles and they are also among the assets of the movie, say the audience.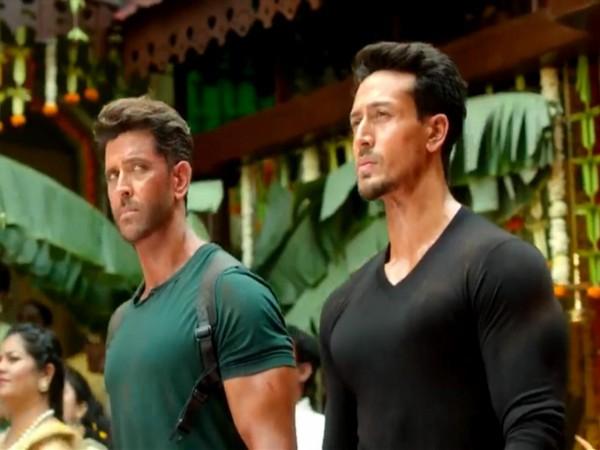 Technical: War has brillaint production values, which are on par with the Hollywood standards. Sanchit Balhara and Ankit Balhara's stunning background score, Vishal–Shekhar's songs, Benjamin Jasper's amazing picturisation, brilliant choreography of action and stunts, dialogues and VFX works are the attractions on the technical front, add the viewers.
War movie review live updates: We bring you some viewers response on the film shared on Twitter. Continue to see audience's reactions:
vinay damani @vinaydamnit
#war review....war till interval will blow your mind away with one after another action set pieces mounted on a very lavish scale hrithik and tiger combo...a sureshot blockbuster from yrf...after long
Surajkumarreview @Surajkumarrevi1
War first half review ❤ Its a good watch Action scenes are on another level with old style bgm Hrithik and tiger are on fire Lets hope more from second half #warreview #war #HrithikvsTiger #TigerShroff
Ramesh Bala @rameshlaus
#WAR 1st Half : Excellent.. Action sequences are choreographed and executed with great finesse.. @iHrithik towers over as the senior.. @iTIGERSHROFF has given his best as the junior.. Together, they are terrific whether action or dance..
Aalim Hakim @AalimHakim
Saw #WAR This is gonna be a Huge Mega Blockbuster. @iHrithik is Mindblowing and you can't keep your eyes away from him. Hrithik performance is at supreme level.@iTIGERSHROFF is superb and given his best.@Vaaniofficial good.#SidhartAnand direction is great @yrf and TEAM WAR ❤️
Rahul Mishra @mishra_rahul93
#War presented @iHrithik in different Avatar never seen before He is the soul of the movie & Lottery for girls to watch 2 Handsome guys in 1 screen together Everything Good in Movie And This #War will destroy all openings record Blockbuster #War
Aniruddha Guha @AniGuha
I hope #War works big time as an action film that caters to the sensibilities of a 2019 audience, and paves the way for more contemporary event films to be made in future. Done with 90s style filmmaking.
Eshaan Roshan @RoshanEshaan
War simmers before it explodes! An action-packed adventure that delivers exactly what it promises. Super performances and a non stop adrenaline ride makes #War one of the best action movies I've watched!
Raj Kundra @TheRajKundra
Three words DIRECTION, ACTION & TRACTION!! Direction to another level, Action out of this world this film is just going to get traction traction and more traction!! Sooo Proud of you itssiddharthanand #war a must...
Milap @zmilap
#War is an action BONANZA! You have NEVER seen such action from an Indian film! @iHrithik is a GOD and @iTIGERSHROFF delivers his GREATEST act! Siddharth Anand mounts the film on a scale that's truly a visual delight! @Vaaniofficial is stunning! Congrats @yrf on a BLOCKBUSTER
VaibhaviMerchant @VMVMVMVMVM
#War is a must watch guys!!! What an entertainer!!! Hrithik @iHrithik & Tiger @iTIGERSHROFF are beyond brilliance & a treat to watch!!! The action..OMG!!!Banging action, brilliant score!!! Kudos to the entire team lead by #SiddharthAnand the director
Hamzah Bhuta @Hamzah_Bhuta
#WAR: PRIZEWINNER Rating ⭐️ ⭐️ ⭐️ ⭐ .5 Riveting screenplay, colossal preternatural & beguiling unreal moments. Prodigious performances by @iHrithik & @iTIGERSHROFF & @Vaaniofficial Best action film Bollywood has EVER Produced!! 2nd ½ beats any Hollywood Movie. #WARreview
TRB. News @TRbollywoodnews
#warmovie #WarMovieReview #warreview #War Movie First Review: Mindblowing is the Performance of Hrithik Roshan and Tiger Shroff, Clamax will fly away
siddharth malhotra @sidpmalhotra
#warmovie @iHrithik is magical in every frame u just can't take ur eyes off him he mesmerises you @iTIGERSHROFF is top of his game giving us the tigerism and more with elan and sincerity.. @Vaaniofficial Is amazing.This war is so delicious that's is paisa vasool for all audiences
Bolly Reviews @reviews_bolly
#WarMovie #War Hrithik and Tiger put on a spectacle. Kudos to director Siddharth Anand for dreaming so big. Story is the best from a Bollywood action film. 4.5 stars/5. MUST WATCH!
ARCHIT @MeArchitGupta
So the review of #war is fantastic.This is what hrithik roshan deserves.Hope the hard work he puts into every role gets paid through this film by breaking each and every record. @iHrithik
Warda S Nadiadwala @WardaNadiadwala
What Synergy between @iHrithik@iTIGERSHROFF High level performance,top notch action,emotions, thrills, Dance uff!Have jumped through out the movie @itssiddharthanand salute bro #adityachopra killer production @yrf outstanding will watch it again in theatre tomorrow #war