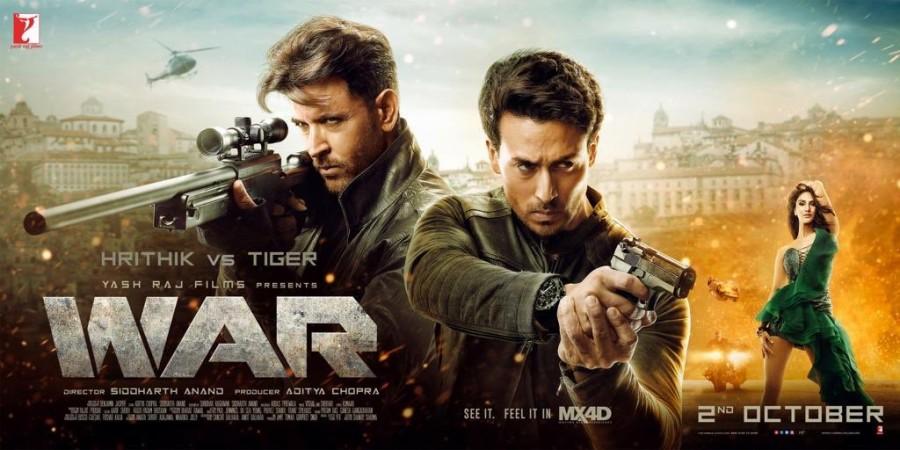 Hrithik Roshan and Tiger Shroff's movie War witnessed an excellent response for advance booking, and looks like those who already booked the tickets would not regret it. The reviews for War has been more or less good.
While the movie released on Wednesday, a special screening of the film was held before the official release. Audience and critics who have already watched War are praising the film. However, there are others who did not find it impressive.
A lot of comments on the movie have come up on social media, mostly talking positively about Hrithik and Tiger's action thriller. Reports from UAE censor board have also come up, giving out positive review for War.
While Hrithik is being called the main highlight of the film, Tiger too has apparently impressed the audience with his action stunts. The best parts of War are the face-off sequences between the two handsome hunks. Nonetheless, some of the critics rated it poorly saying that the film is just good in terms of action but not in overall content. Apart from Hrithik and Tiger, the film also features Vaani Kapoor.
War is based on a cat-rat race between Kabir played by Hrithik and Khalid portrayed by Tiger. The film is blessed with exotic views, stunning action, thrill and a lot of flamboyance. It is a high-budget film, and the treatment very much highlights that.
Check some of the reviews of War from critics:
India Today: The plotline has enough loopholes to put a tea-infuser to shame. But, in War's defence, it delivers what it actually promised since its promo: two good looking men (one more than the other) clashing, along with action that will keep you on the edge of your seat. If anyone went in expecting path-breaking cinema, well, why? (2.5*/5*)
The Indian Express: The last time Hrithik looked as sexy, was in Dhoom 2 ( 2006), also a Yash Raj film. The golden streaks have been replaced with a bit of grey at the temples, but the bronzed cheekbones decorated with a few fetching scars, is full eye-candy. I am not revealing anything by telling you that War looks all set to be a franchise: next time maybe go full comic-book? Now that's a spy I will buy. (2*/5*)
Times Now: The background score, especially War theme is really good. There are only two songs in the film and both are chartbusters and are shot beautifully. The cinematography is first-rate. The action sequences, especially the one in the first half and in the pre-climax and climax are good. However, when it came to hand to hand combat, Baaghi series has better action and when it came to the over the top stunts, Bang Bang! takes the cake. (3*/5*)
Pinkvilla: War is undoubtedly an entertaining Bollywood thriller with two superstars of two different generations giving ample opportunities to start a social media war on who was better. After a long time, we have a film which is better than its trailer. WAR is a combination of well-blended masala, powerful action scenes, unpredictable twists and a required dose of patriotism. Something, you can watch and enjoy. (3*/5*)
NDTV: As soon as the next gunshot is fired, War returns to the core business of violent confrontations that push the combatants to the limits of their ability to endure pain. They test the patience of the audience too. This War is just not worth fighting. It begins with a bang and ends with a bang, but is otherwise a whimper all the way. Only for fans of Hrithik and Tiger. (1.5*/5*)
Firstpost: Thank god for Tiger and Hrithik, who make the film mildly watchable. The stakes get higher in the second half, so the action sequences are more impressive. War is no Mission: Impossible, but credit where credit is due. War promises action, swag and bromance, and you get that in abundance. Just don't expect a seamless, smart film.
Times of India: The relentless action and the dialogue baazi is entertaining, but the predictable storytelling and the not-so-original screenplay leave a lot to be desired in this desi action flick. On the back of films like Hrithik's Dhoom 2 and Tiger's Baaghi 2, War is a decent addition to both actors' action film legacy. But this high-profile bang bang show is at best, popcorn entertainment for action movie buffs. (3*/5*)
Related