India captain Virat Kohli said on Thursday, November 15 that "yes-man" tag is the most bizarre thing he has heard about Ravi Shastri and insisted the head coach is a "brilliant" man manager.
Kohli added that Shastri played a big role in helping players during difficult phases of their careers and revealed he has made more changes upon the former captain's advice than anyone else in Indian cricket.
Speaking at the pre-departure press conference of India's tour to Australia, Kohli was responding to a journalist who asked his opinion on Shastri's role in the team amid criticism that has been levelled against the head coach, who had replaced Anil Kumble in 2017.
"About saying yes all the time. That's the most bizarre thing I have heard. I don't think there is anyone who is said no to me more than him [Shastri] in Indian cricket. He is one guy whom I can speak to and get an honest opinion. I have made more changes to my game listening to him than anyone else in the past," Kohli said.
"The contribution that he has brought to the table ever since we began building this team is that he has made us believe we belong to this level. And I can vouch for it because we all went through a really difficult time in England in 2014.
"For me to be able to come out of the shell, and a lot of other players, Shikhar in the 2015 World Cup, he can vouch for that. He has been the most important factor as far as getting the best out of players.
"Man management is the most important thing at the level we play at. A lot of people think that we don't understand what needs to be done. They think someone needs to literally tell you where the bat has to come from, where the head has to be.
"But I think we have learnt those things enough. It's about man management which Ravi Bhai has done brilliantly for the time he has been with the team."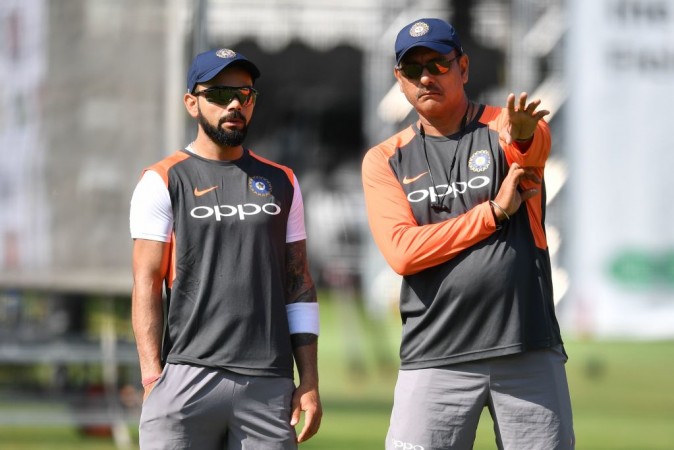 As Kohli pointed out, Shastri had worked with the India senior national team as its Team Director between 2014 and 2016. He took charge after the team's 3-1 thrashing in England and left the post after the World T20 in 2016.
Kohli took over as captain of the Test team for the first time during Shastri's tenure as the Team Director and both of them developed a good rapport.
When Kumble stepped down after reported differences between him and Kohli last year, the latter seemingly preferred Shastri for the role of head coach. The World Cup-winning former all-rounder was allowed to apply for the role even as he missed the initial deadline for applications.
Team is moving in the right direction: Kohli
Despite India's consistent performances at home, repeated batting failures on overseas tours have put the spotlight on the support staff, especially Shastri. The head coach has often insisted that he is "no headmaster" of the team and that he was there to guide Kohli and his men.
Indian batsmen's technical shortcomings which were exposed by the South African and England bowlers earlier this year is a cause for concern but Kohli maintains that the team is moving in the right direction.
"The only motive is to take Indian cricket forward. If someone can say otherwise about the progress of the team, then I think it's a very personal point of view. Because we all feel we're moving in the right direction as a team," Kohli added.
"The only criteria for all of us is this badge (India). We are all working for it. He will be finished one day, I will finish playing one day. But cricket stays and Indian cricket will continue. We're just contributing to that. No one is here wanting to dominate or gain something out of this."