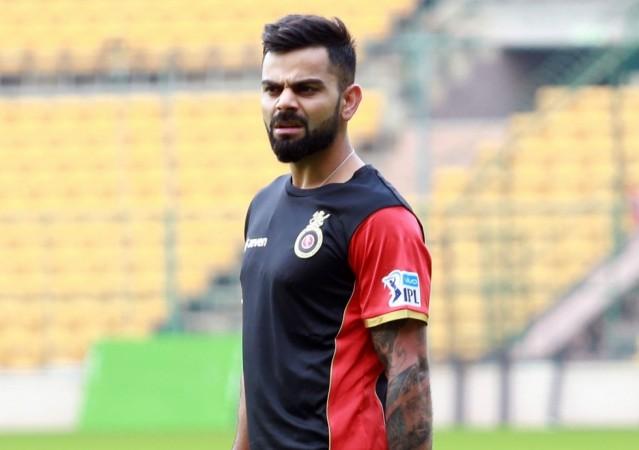 Kohli is unlikely to lead India against Afghanistan in the latter's first-ever Test in Bengaluru
The India captain is expected to play for Surrey in County Championships between June 9 and 28
Afghanistan Cricket Board CEO has already expressed disappointment at Kohli's unavailability
The Board of Control for Cricket in India (BCCI) and the Supreme Court-appointed Committee of Administrators (COA) seem to be at loggerheads over India captain Virat Kohli's participation in County Championships in the 2018 cricket season.
A BCCI official has told The Indian Express that Kohli opting out of Afghanistan's first-ever Test match, which will be played against the world number one side in Bengaluru from June 14, could be seen as a disrespectful gesture to the visiting team.
On the other hand, CoA officials are of the view that Kohli and the other regular members of the Test team should get enough game time in English conditions before India's much-anticipated tour of England, starting with a T20I series from July 3.
Kohli set to join Surrey
Kohli is expected to join County Championship side Surrey after the end of the ongoing Indian Premier League (IPL) season. He is reportedly set to feature in 4 matches for the English side between June 9 and 28, which makes him unavailable for the Afghanistan Test.
Notably, the Asian giants will be starting the much-anticipated tour with a limited-overs leg, consisting 3 T20Is and as many ODIs from July 3 in Manchester. They will also play a 5-match Test series, starting August 1 in Edgbaston.
'Bad message to Afghanistan team'
"It would give a very bad message to the visiting Afghanistan team; that maybe the opponents aren't worthy for us. It would be disrespectful to the Afghanistan team and also, it would be unfair on the broadcaster," the BCCI official said, as quoted by the report.
He added: "If a decision has been taken to allow the India captain to miss an international game and play County cricket at that point in time, it would set a very bad precedent.
"(Even if) he is playing in England at that time, he can come back for one Test and then fly back. And if he is so keen to play County cricket, has he sought permission to miss his IPL games?"
Kohli had been expressing interest to feature in County Championships, especially after he suffered a horrible time in England during India's 3-1 defeat in 2014. The Delhi batsman managed just 134 runs at 13.40 and struggled to cope up with the swinging conditions.
Looking ahead, the BCCI had reportedly planned to send a few members of the Indian cricket team to England as early as in the first week of June.
While the likes of Cheteshwar Pujara and Ishant Sharma are already playing Country cricket for Yorkshire and Sussex, a few Test regulars are expected to tour England with Rahul Dravid-coached India 'A' side ahead of the senior team's trip.
'Afghanistan cricketers will miss playing against Kohli'
Meanwhile, Afghanistan Cricket Board CEO Shafiq Stanikzai opined Thursday, April 26, that playing their first-ever Test is a "dream-come-true" moment but maintained the young Afghan cricketers would miss the exposure of playing against Kohli.
Afghanistan had earned their Test status in June 2017 along with Ireland. Despite playing their inaugural Test against India, the Asian minnows will not be facing the powerhouse of world cricket in the next 4 years in the longest format of the game.