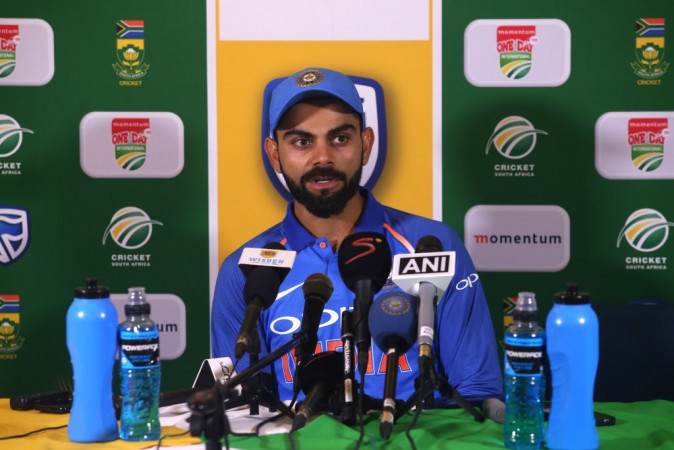 Captain Virat Kohli had, even before the start of India's ongoing tour of South Africa, hit out at the "cramped" cricket schedule and expressed disappointment at the lack of preparation time for what was considered one of the Asian giants' most important trips in 2018.
India were forced to prepare on seamer-friendly pitches in their home series against Sri Lanka in November-December last year. Notably, Kohli's men left for South Africa just a few days after finishing their assignments against the islanders, and thus were left with no time to acclimatize to the conditions in the "Rainbow Nation".
Kohli went on to criticise Board of Control for Cricket in India's (BCCI) planning and said critics should refrain from judging the teams' overseas performances given the lack of preparation time.
As expected, India found it difficult to cope up with the conditions in South Africa and eventually lost the Test series 2-1. They made a strong comeback in the third and final Test in Johannesburg, but it was a little too late as the series was already lost.
BCCI finally empathizes with Team India
As it turns out, Kohli's strong words have worked in India's favor as the BCCI has decided to send the team to England 10 days before the start of another much-anticipated tour, starting July 3 at Old Trafford in Manchester.
Kohli's men will be playing three T20Is and three ODIs after which the two teams will be involved in a five-match Test series.
Test regulars to play for Rahul Dravid's India A?
BCCI is planning to let the Indian players start preparing for the England tour as early as the first week of June. A few Test specialists may even be part of Rahul Dravid's India A team, which will tour England before the senior team's trip, according to the Times of India.
"The idea is to park more and more players in England and ensure that the cricketers are ready for the entire series. With England also scheduled to host the 50-over World Cup next year, this tour is very important for us," a top BCCI official was quoted by the daily as saying.
India are scheduled to take on Afghanistan in the latter's inaugural Test from June 14, but the board is reportedly planning to field a second-string team for the match in Bengaluru.
County exposure for Pujara, Ishant
In what is already being seen as a big boost to India's chances in England, top-order star Cheteshwar Pujara and pacer Ishant Sharma, who were unsold at the Indian Premier League (IPL) 2018 auction, will be representing Yorkshire and Sussex in English County Championships, which is starting on April 13.
India are expected to leave no stone unturned when it comes to preparation as the Asian team has lost seven of the last nine matches in England, including a 4-0 whitewash in 2011.
Full schedule of India's tour of England (2018)
1st T20I on July 3 at Old Trafford, Manchester
2nd T20I on July 6 at Sophia Gardens Cardiff
3rd T20I on July 8 at County Ground, Bristol
1st ODI on July 12 at Trent Bridge, Nottingham
2nd ODI on July 14 at Lord's London
3rd ODI on July 17 at Headingley, Leeds
1st Test between August 1 and 5 at Edgbaston, Birmingham
2nd Test between August 9 and 13 at Lord's, London
3rd Test between August 18 and 22 at Trent Bridge, Nottingham
4th Test between August 30 and September 3 at The Rose Bowl, Southampton
5th Test between September 7 and 11 at Kennington Oval, London