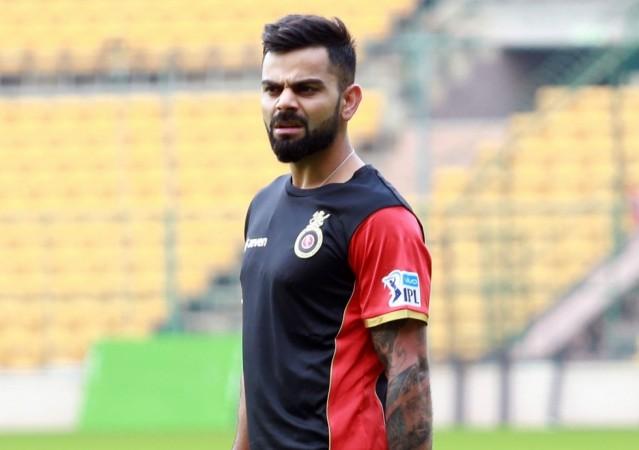 In what can be termed as a big setback to India's chances of dominating England in the upcoming tour, captain Virat Kohli is set to miss the much-anticipated county stint due to a neck injury.
The Board of Control for Cricket in India (BCCI) has confirmed the same while revealing Kohli suffered the injury during Royal Challengers Bangalore's final Indian Premier League (IPL) 2018 match against Sunrisers Hyderabad.
The apex body of Indian cricket is also confident of Kohli getting fit in time for the Ireland and England tours scheduled between June 27 and September 7. Notably, India are scheduled to play two T20Is in Ireland before playing three T20Is, and many ODIs and five Tests in England.
Kohli signed for Surrey on a one-month deal that would have seen him play three four-day matches of the Specsavers County Championships and three Royal London One-Day Cup fixtures in June.
The India captain even chose the county stint over the historic Test against Afghanistan (starting June 14 in Bengaluru) in order to leave no stone unturned in his preparation for the England tour.
"Team India Captain Mr Virat Kohli suffered a neck injury while fielding during Match 51 of the VIVO IPL between Royal Challengers Bangalore and Sunrisers Hyderabad on 17th May 2018 at M. Chinnaswamy Stadium, Bengaluru," a BCCI press release said.
It added: "Mr Kohli, who was scheduled to play for Surrey CCC in the month of June, has been ruled out from participating. This decision was taken following assessments by the BCCI Medical team, subsequent scans, and a specialist visit.
"The Team India captain will now undergo a period of rehabilitation under the supervision of the BCCI Medical team.
"He will begin training and subsequently undergo a fitness test at the NCA in Bengaluru from June 15. The BCCI Medical Team is confident that Mr Kohli will regain full fitness ahead of India's upcoming tours to Ireland and England."
Earlier in the day, a Mumbai Mirror report claimed Kohli had suffered a disk slip, which was diagnosed by a leading orthopedic surgeon in Mumbai. However, the latest injury, diagnosed by a leading orthopaedic surgeon in Mumbai, has shattered his plans, according to the Mumbai Mirror.
The doctors have confirmed the Delhi batsman doesn't need a surgery when he visited the hospital on Wednesday, May 23, according to the report.
Meanwhile, Kohli's workload has been one of the major talking points over the last few months as India have had one of the busiest cricket schedules. The Indian skipper and coach Ravi Shastri had spoken about the player burnout issue last year.
After skipping the initial part of IPL 2017 due to an injury he picked up during a preceding Test match against Australia, Kohli had been playing non-stop cricket.
Between June 2017 and May 2018, Kohli had played nine Tests, 29 ODIs, and 9 T20Is, according to the report.