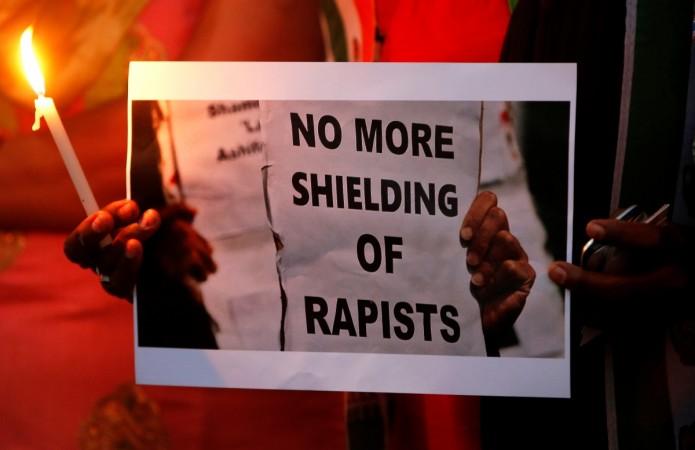 A woman in Uttar Pradesh was gang-raped by a group of three men on July 5. A video of the incident has now gone viral on the internet.
The incident reportedly happened in Unnao. The clip shows a woman being molested by three men while the fourth man is filming the incident. The victim is also seen being dragged into the forest, despite her cries for help.
The attackers can even be heard threatening the woman, saying that they will make the rape clip go viral on the internet.
Police apathy continues
Latest updates say that the accused Rahul and Akash have been arrested by the police, and the search for the other two is on.
When International Business Times contacted the Gangaghat Police Station to know about the progress of the investigation, the police officer adamantly disconnected the call stating ''I am busy''.
IBT even tried to contact the office of the Additional Superintendent of Police, Unnao, but nobody picked the call, which clearly indicates the inefficiency of the police department in UP. The state has emerged as the rape capital of the nation.
Despite continuous efforts of Chief Minister Yogi Adityanath, crimes against women are drastically increasing in the state of Uttar Pradesh. Recently, a six-year-old child was kidnapped and raped by a rickshaw puller. The police have reportedly arrested the culprit.
Social media reacts
The video of the Unnao rape case has sparked public outcry on social media platforms. Several internet users on Facebook and Twitter have criticised UP Chief Minister Yogi Adityanath and his government for bad policing policies. Some people alleged that Yogi's government is only concerned about the safety of cows and that authorities are not bothered about the safety of women.
The Thomson Reuters Survey that shocked the nation
Recently, Thomson Reuters released a report that said India is the most dangerous country for women. It should be noted that war-torn countries like Afghanistan and Syria were ranked in the second and third place, but a country like India which boasts of its rich tradition surprisingly grabbed the top spot.
Even though campaigns like #metoo are taking shape well in many countries, it will help only elite class women to expose the sexual brutality they faced. However, in many states of India especially in the rural regions, people often fail to get sufficient help from the police.