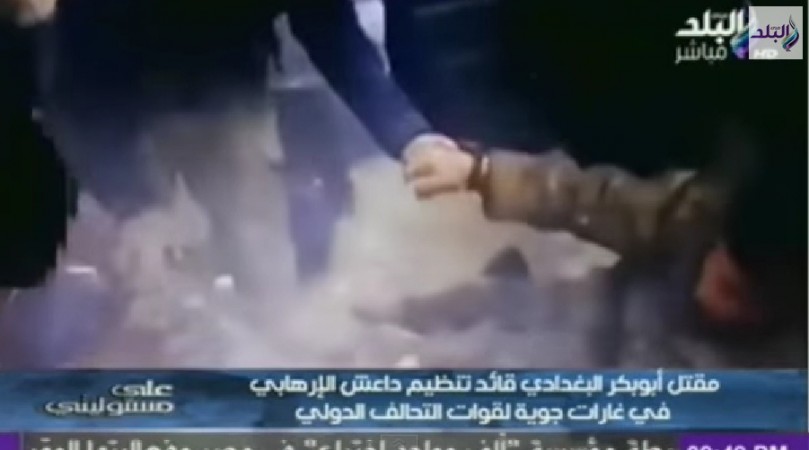 A video that allegedly shows the leader of the Islamic State, Abu Bakr al-Baghdadi, getting injured in an airstrike, has been leaked.
The footage apparently shows the militant leader and his convoy being attacked in an airstrike that has reportedly injured or possibly killed him. The footage was aired by a local Egyptian channel, Balad TV, as noted by Iraqi News.
In the video, al-Baghdadi is seen next to a black SUV car, suffering injuries due to the airstrike. It starts with an injured person, groaning in pain, beside another person lying dead next to him.
The person seen in the pictures, who Balad TV claims to be al-Baghdadi, tries to move before other militants come to his aid and rescue him.
Watch the video below:
The injured person – who has not been officially confirmed to be the Sunni hardliner group's leader – appeared to be dressed in a military uniform.
He is reported to be wearing the same Rolex watch, which al-Baghdadi wore during his sermon at Mosul. The watch had become the subject of Twitter memes a few months ago, when the man gave his speech after formally announcing the northern area of Iraq and Syria as 'Caliphate'.
This comes on the same day when the leader released an audio message on social media websites in what seems to be an attempt to prove that he is alive and well. In the speech, Baghdadi has reportedly called for attacks against Saudi Arabia and warned of "volcanoes of jihad" across the globe.
The terrorist group, nonetheless, had confirmed reports that al-Baghdadi was injured in an airstrike last Saturday.
A Twitter account affiliated to the spokesperson of the jihadist group, Abu Mohammed al-Adnani, confirmed the news saying: "The leader of the ISIL Abu Bakr al-Baghdadi has been injured."
"Do you think the state of Khilafa will end by the death of the Caliphate?" Adnani said in his tweet. "We assure for the State that the Amir Abu Bakr al-Baghdadi is fine and we ask his followers to pray for God for his safety."
Air strikes last Friday destroyed an ISIS convoy near the Iraqi city of Mosul, but the US officials were unable to confirm if the group's top commander had been in any of the 10 targeted vehicles.