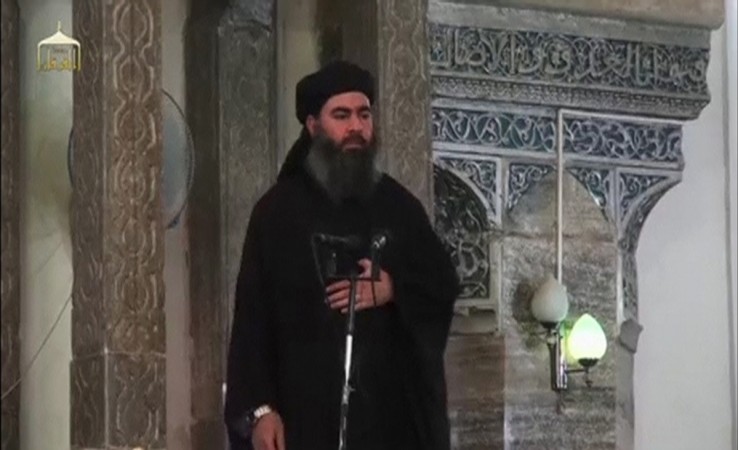 The Islamic State (ISIS) terrorist group confirmed reports that the leader of the group, Abu Bakr al-Baghdadi , was injured on Saturday in an airstrike.
A Twitter account affiliated to the spokesperson of the jihadist group, Abu Mohammed Al-Adnani, confirmed the news: "The leader of the ISIL Abu Bakr al-Baghdadi has been injured". No details about the injuries have been given, Iraqi News notes.
"Do you think the state of Khilafa will end by the death of the Caliphate?" Adnani said in his tweet adding: "We assure for the State that the Amir Abu Bakr al-Baghdadi is fine and we ask his followers to pray for God for his safety."
The news website had earlier quoted a security source on Saturday that read: "The leader of the ISIL (ISIS), al-Baghdadi, has been injured during a bombardment for the international airstrike in Qaem district witin Anbar province."
Iraq's defense and interior ministries also issued brief statements saying that the leader was wounded.
The Pentagon clarified that it had no immediate information about al-Baghdadi's injuries or the air strike.
According to an interior ministry intelligence official cited by the Associated Press, al-Baghdadi was hit on Saturday while in a meeting with militants in the town of Qaim in Iraq's western Anbar province.
Rumours are rife that the leader might be dead.
Air strikes on Friday destroyed an ISIS convoy near the Iraqi city of Mosul, but US official were unable to confirm if the group's top commander had been in any of the 10 targeted vehicles. Tribal sources were quoted by Saudi news channel Al Arabiya as saying that after the strike, ISIS members scrambled to transport the wounded to a hospital, The Independent reports.