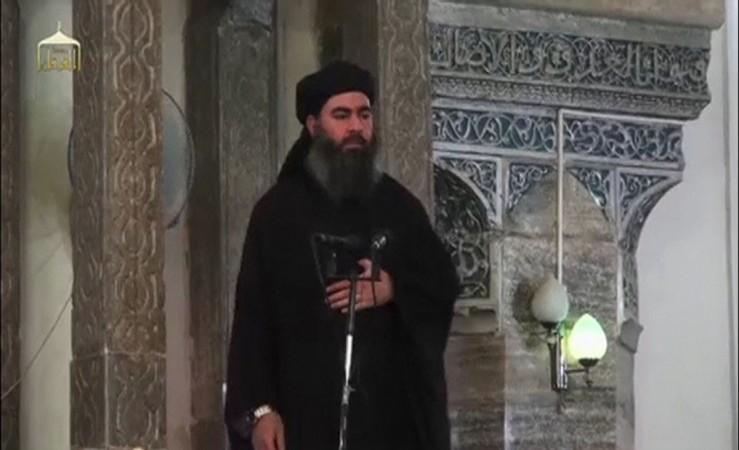 Dispelling rumours of the Islamic State (ISIS) leader Abu Bakr al-Baghdadi being killed in a US airstrike, an audio message has surfaced, proving that the leader of the terrorist group is in fact alive and well.
In the audio message released on social media websites by the group, Baghdadi stated that the "crusader" US-led military campaign against ISIS was failing. "America and its allies are terrified, weak, and powerless," he said. Not just that, Baghdadi has also reportedly called for attacks in Saudi Arabia and for "volcanoes of jihad" across the world.
In his speech, which was delivered in 'fanciful' classical Arabic, the ISIS leader repeatedly attacked "the Jews" and "apostate" and "treacherous" Muslim (Arab) leaders, who feared the return of the Muslim faithful.
His 17-minute audio tape, released by al-Furqan media, has in particular brought the rumors of his death and injury to an end. [Read Full English Transcript of Baghdadi's Audio Message HERE]
"Oh soldiers of the Islamic State, continue to harvest the [enemy] soldiers," the audio message emphasised. "Erupt volcanoes of jihad everywhere. Light the earth with fire under all the tyrants and their soldiers and supporters."
Baghdadi, who is now often referred to as Caliph Ibrahim, also revealed the expansion plans of Islamic State and went to add that 'love' for Islamic State was growing in Saudi Arabia, Yemen, Libya, Algeria, Tunisia and Morocco.
Baghdadi also addressed the terror group's followers in Saudi Arabia and asked them to draw their swords to strike on the "head of the snake", as the country has become a "stronghold of disease." Calling on the Sunni groups in Saudi Arabia, he said that they should attack the Shias. [Listen to Baghdadi's Audio Message, HERE]
In Yemen, Baghdadi called for attacks on the "apostate" Houthis – a rebels group that is allegedly supported by the Shia-dominant country of Iran. Baghdadi in his audio message also mentioned the Egyptian militant group, Ansar Beit al-Maqdis, which became the first significant group outside Syria or Iraq to declare its fealty to ISIS. Baghdadi said he accepted the group's pledge of obedience and welcomed them into the Islamic State.
"Be assured, O Muslims, for your state is good and in the best condition," Baghdadi declared. "Its march will not stop and it will continue to expand, by Allah's permission. The march of the mujaheddin [Muslim holy warriors] will continue until they reach Rome. And soon, the Jews and Crusaders will be forced to come down to the ground and send their ground forces to their deaths and destruction."
The timing of the recording could not be pin-pointed, except that the audio message referred to two-key dates: Barack Obama's recent decision (7 November) to send 1,500 more US military advisers to train the Iraqi army, and the pledge of allegiance by Egyptian jihadists to the Islamic State (9 November).