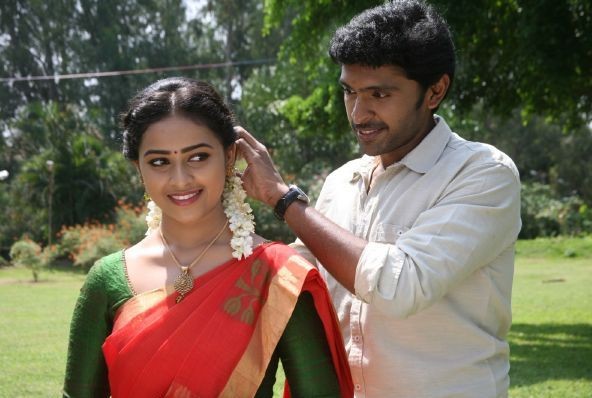 "Vellaikaara Durai", which hit screens on 25 December, has opened to below average reviews. The film that stars Vikram Prabhu and Sri Divya in the lead is directed by Ezhil.
The story of "Vellaikaara Durai" revolves around Murukan (Vikram Prabhu) and Police Pandi (Soori) who are friends. They take loan from a real estate goon, Vaddi Varadhan (John Vijay) but eventually suffer a huge loss in the real estate business and get into trouble with Vatti. As the film progresses, Murukan meets Yamauna (Sridivya) and rest of the movie talks about how the friends overcome the trouble and how the love story of Murugan and Yamuna advances.
Most of the critics have labelled the movie as repetitive especially the jokes. The comedy dialogues are said to be the same as previous films and the climax of the movie also failed to bring in anything new except a mess.
However, numerous critics have opined that the casting of the movie was good and each actor has done justice to the role.
Here are the reviews of "Velaikaara Durai" by various critics
"The film takes a story template and incorporates into it one ridiculous joke after another; so consider the disbelief when you realise that you're laughing uncontrollably 10 minutes in, even as you look around hoping no one you know is in the same theatre. To be fair, the film only tries to deliver on what it promises — a laugh riot with all the masala elements to satisfy the B and C centres," - The Hindu
The performances of all the characters make the movie stand out. Post heavy script oriented roles in Kumki, Ivan Vera Mathiri, Arima Nambi and Sigaram Thodu, Vikram Prabhu proves his acting ability in a comedy genre in the most convincing way. Though Soori as the main support actor isn't in his full form, his comedy timing does give a few laughs. John Vijay shoulders the show as the villain, making the viewer not miss any of his dialogues. Be it his white shirt and cool shades or his egg-shaped eyes and a hefty personality, 'Vaddi' has made his presence felt. It is not new for Sridivya to wear half sarees or sarees. Just like 'Lathapandi' in VaruthapadathaValibar Sangam, 'Yamuna' in Vellaikaara Durai is bold, with unflinching charisma". - Behindwoods

"This is a film which will either make you laugh your lungs out or watch the proceeding with a straight face wondering what is making the others laugh. As someone who belongs to the latter category, it is tough to pass a judgement on this film. But it does look like a rather lazy attempt what with so many scenes that look exactly the same as those of Ezhil's last two outings. Soori does put up a good show but there is only so much he can do. You can enjoy the same comedy by viewing it multiple times. But the same comedy in multiple films does tire you. With such talented actors we really hope the directors do more ground work and provide a solid platform for them to perform."- Movie Crow