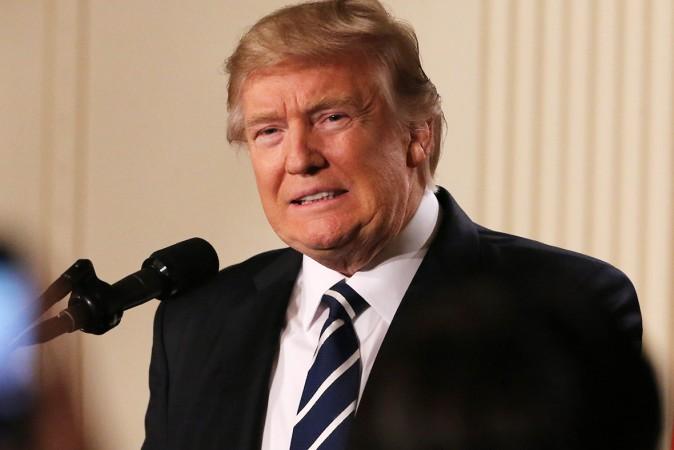 United States President Donald Trump on Friday suggested that he is considering rewriting his executive order on immigrants travel ban, which bars refugees and citizens of seven Muslim-majority countries from entering America.
Trump suggested that his administration may attempt to restore some of some aspects of the travel ban, which has temporarily been suspended. The order could also be replaced with a new one, which could be less sweeping and may entail certain face-saving measures.
Donald Trump says 'see you in court' after US appeals court judges uphold travel ban suspension
The president's travel ban, which resulted in country-wide protests, applies to migrants, refugees and US legal residents — Green Card holders — from Iraq, Iran, Sudan, Somalia, Syria, Libya and Yemen. There is an indefinite ban on the arrival of Syrian refugees. Trump cited "terrorism concerns" as the reason behind the order.
Trump, while talking to reporters on Air Force One, said that he would probably wait until Monday or Tuesday before taking any action on the immigration order. The White House Chief of Staff Reince Priebus said that there were several options sitting on the table for them, including taking the case of order suspension to the Supreme Court.
"We will win that battle. The unfortunate part is that it takes time statutorily, but we will win that battle. We also have a lot of other options, including just filing a brand-new order," Trump said referring to the Washington case against his travel ban. The president also added that he may also introduce "new security measures" among the revisions of the order.
The administration is set to face a staunch challenge even in the case of reforms of the immigration order.
"Whatever they do, I think they're running into a problem. I don't know what type of a ban they can possibly craft that can be constitutional," the global head of immigration at the Withersworldwide law firm, Reaz H. Jafri, was quoted as saying by The Washington Post.
United States President Donald Trump was dealt a legal blow on Thursday when a federal appeals court refused to reinstate his controversial travel ban, which prohibits refugees and immigrants from seven Muslim-majority countries to enter the United States.
Just minutes after the court's verdict, Trump took to twitter to express his anger at the decision writing, "SEE YOU IN COURT, THE SECURITY OF OUR NATION IS AT STAKE!"
A federal court in Seattle last week had suspended Trump's executive order on a travel ban on immigrants, which left many refugees and people from certain countries stranded. The government, in response, had appealed against the suspension arguing that the order should be immediately reinstated for national security reasons.
The three judges with the US Court of Appeals for the 9th Circuit, however, unanimously rejected the government's argument in a 29-page opinion, asserting their ability to serve as a check on the presidential power in the country, stating that any suggestion that they couldn't "run contrary to the fundamental structure of our constitutional democracy."