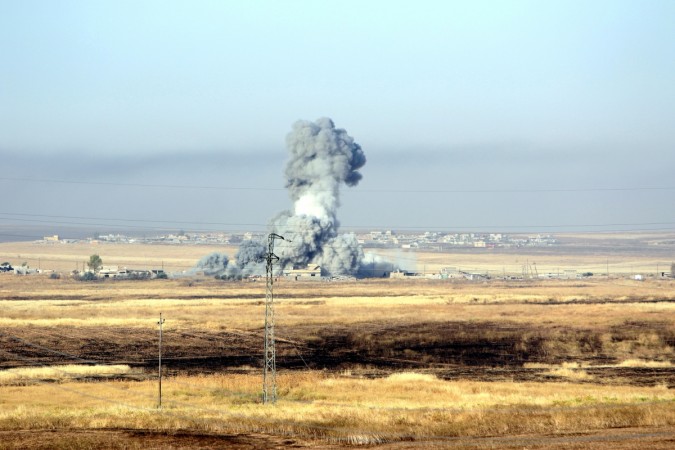 In an instance of fatal "friendly fire," airstrikes conducted by the coalition forces led by the United States has reportedly led to the death of at least 90 personnel of the Iraqi Army in Mosul, Iraqi news agencies claimed on Saturday. International Business Times, India could not independently verify the authenticity of the reports. Both sides are currently fighting the Islamic State group — also known as Islamic State of Iraq and Syria (ISIS) or Islamic State of Iraq and the Levant (ISIL) — and looking to drive it out of Mosul, which is the second-largest city in Iraq.
The Iraqi Army, the coalition forces and others have already killed more than 50,000 ISIS terrorists in Iraq and Syria — both in ground combat and airstrikes. It has also been speculated that ISIS chief Abu Bakr al-Baghdadi is dead, and that has further weakened the morale of ISIS in both Iraq and Syria.
Now, with this airstrike — which occurred on Friday — and the subsequent deaths of the Iraqi personnel, there may be signs of cracks between Iraq and the US, and ISIS may take heart from that.
Armoured regiment hit
According to a report in Factiniraq, which quoted local sources, the US airstrike managed to strike the ninth armoured regiment of the Iraqi armed forces in Mosul in the Nineveh province. The attack resulted in the death of 90 personnel, and another 100 were injured in it.
The attack also destroyed eight infantry combat vehicles and four carriages of the armed forces. It has now reportedly led to the Iraqi forces leaving the city of Mosul.
It may be worth mentioning that Iraq and the United States have differing opinions on when the Battle for Mosul will end. While Iraq believes it will be able to rid Mosul of ISIS terrorists by the end of 2016, the US and the coalition it leads believe that the process will take more time. ISIS is currently cornered in the Western part of Mosul, with most — if not all — of its aid and supplies cut off.