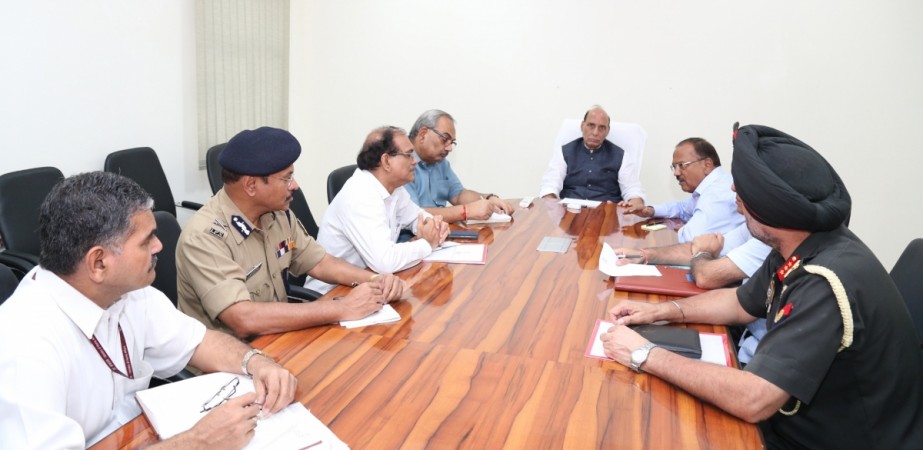 Indian Army's Director General of Military Operations (DGMO) Lt. Gen. Ranbir Singh said on Sunday afternoon that the early morning attack at the Army's Brigade Headquarters in Uri in the Baramulla district of Jammu and Kashmir had been carried out by foreign terrorists. The attack had led to the death of 17 Indian soldiers, while four terrorists had been neutralised.
Singh said in a public statement in the afternoon that four AK-47 assault rifles had been seized from the four terrorists, with initial reports indicating that they belonged to the terror group Jaish-e-Mohammed. This is the same group that had been suspected of carrying out the Pathankot air base attack earlier in the year.
Singh said in his statement that some objects obtained from the attackers had Pakistani markings on them, about which he had spoken to his Pakistani counterpart. He also said they had recovered "four Under Barrel Grenade Launchers and other war-like stores" from the terrorists.
Of the 17 men who died, 13-14 had been killed in a tent fire that had been the result of explosions set off by the terrorists, Singh said. "The terrorists opened fire with incendiary ammunition. This led to tents and temporary shelters located inside the Army camp catching fire," he explained. Those injured in the attack have since been moved to hospitals in Srinagar.
Singh was quick to respond on what India's reply to this attack would be. "I assure you that Indian Army is prepared for any evil design by the adversary, and will give a befitting response," he said, adding: "Indian Army has conducted the entire operation in a deliberate and professional manner."
Meanwhile, as the Indian political class — from Prime Minister Narendra Modi to Home Minister Rajnath singh and even Congress president Sonia Gandhi — blamed Pakistan in unison for the Uri attack, the neighbouring country said India had blamed it without even conducting an investigation.
Pakistan Foreign Office spokesperson Nafees Zakaria said: "India immediately puts blame on Pakistan without doing any investigation. We reject this."
This stand, however, was nixed by the DGMO's statement that Pakistani markings had been found on objects obtained from the terrorists.