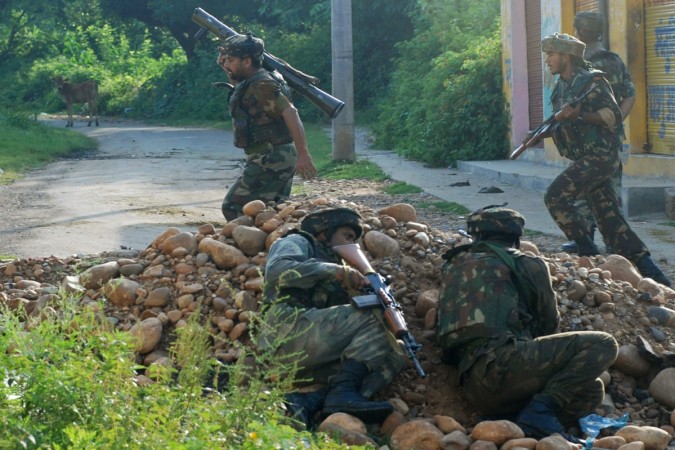 Strongly condemning the terrorist attack at Indian Army base in Uri on early Sunday morning, Prime Minister Narendera Modi said those behind the attack will not go unpunished. However, he refrained from mentioning anything about the origin of the attack.
Seventeen Army jawans martyred and at least four terrorists were killed in the attack on the Army base in Baramulla district of Jammu and Kashmir. About 12 soldiers were critically injured.
The Army suffered heavy casualties, equalling the loss of security personnel that of in the 26/11 attacks as fires engulfed the temporary shelters and tents in the headquarters when suspected terrorists lobbed grenades in the Brigade Headquarters at around 5:30am on Sunday. By 8:00am firing had stopped and later it was revealed that four alleged terrorists were neutralised. Since then, the Army has been conducting combing operations in and around the area.
Defence Minister Manohar Parrikar and Army chief Gen Dalbir Singh are expected to visit Jammu and Kashmir in view of these attacks, while the Ministry of Home Affairs (MHA) issued alert for all airports across the country in the wake of the terrorist attack in Uri.
Home Minister Rajnath Singh, who postponed his visit to the United States and Russia, called an emergency meeting at his residence. The meeting at his residence was attended by Director General Military Operations (DGMO) Lt. Gen. Ranbir Singh, Defence Secretary G Mohan Kumar, CRPF DG and IB Chief.
"Pakistan is a terrorist state and it should be identified and isolated as such. There are definite & conclusive indications that perpetrators of Uri attack were highly trained, heavily armed and specially equipped. I am deeply disappointed with Pakistan's continued and direct support to terrorism and terrorist groups," Rajnath Singh said.
Meanwhile, J&K Chief Minister Mehbooba Mufti too condemned the attack and said it aimed at triggering fresh violence and creating a war-like situation in the region.
Congress Chief Sonia Gandhi called the Uri attack an attack on national conscience. She also said that the perpetrators should be severely dealt with along with the forces behind them. Congress vice president Rahul Gandhi observed a minute of silence as a tribute to the jawans who lost their lives.
Richard Verma, the United States ambassador to India, condemned the attack and added that "our thoughts are with the families of the soldiers that died."
Several other politicians across party lines stepped up the offencive and accused Pakistan of having orchestrated the attacks and suggested a change in strategy and approach to deal with Pakistan in light of the latest tragedy.
"Pakistan must refrain from indulging in cross border terrorism, it should be taken up seriously. Terrorism is not the solution to Kashmir issue.Can only be solved through pol dialogue with all stakeholders," CPI-M's Sitaram Yechury was quoted saying by ANI.
"Terrorist groups are just front; these attacks are planned by ISI & Pakistan army. It's state-sponsored attack. If you term it as terror attack, you're misleading yourself. Only way to handle these attacks is to hit back," former home secretary RKSingh said.
"Only way to tackle this sending strong message to Pak. We have made blunders by trusting Pak in past. Government should stop the diplomacy of sarees, biryanis, sweets & shawls,should send a hard hitting message to them (Pak) instead," BJP leader and minister Jitendra Singh said.
However, some experts attempted to suggest the motivation behind such an attack.
"It's time for Government of India to take a practical approach, and react to this. Seems like Pak has waged proxy war against India because they're getting agitated by Balochistan issue" defence expert SR Sinho was quoted saying to ANI.
"We are not tolerating such kind of things, & will not do so in the future. Pakistan is irritated at the moment, because they failed in their attempt to execute such an activity here on Eid" Hansraj Ahir, Minister of State for Home Affairs, said.
So far, there is no official update on the identity of the attackers. A home ministry briefing is expected at 4:30pm.