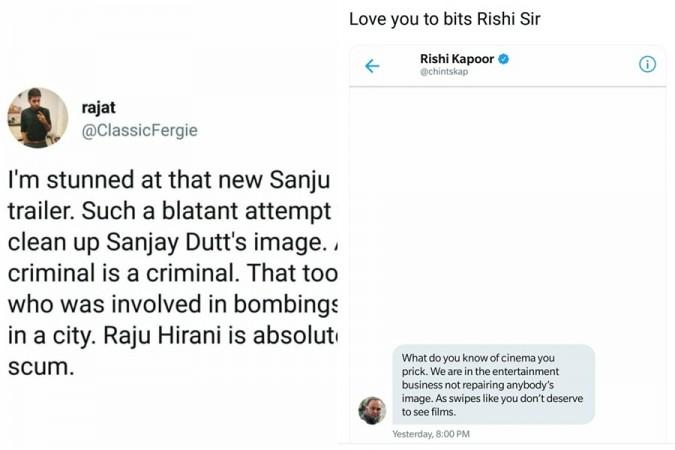 Veteran actor Rishi Kapoor, who is known for his unapologetic behaviour, recently abused a Twitter user for apparently not liking the trailer of Sanju. The movie features his son Ranbir Kapoor as Sanjay Dutt.
The Twitter user felt Rajkumar Hirani's directorial Sanju looked like a blatant attempt to clean up Dutt's image and sympathise with the actor by showcasing his various aspects of his life from getting addicted to drugs to facing jail term in connection with the 1993 Mumbai blasts.
He wrote, "I'm stunned at the new Sanju trailer. Such a blatant attempt to clean up Sanjay Dutt's image. A criminal is a criminal. That too who was involved in bombings in a city. Raju Hirani is absolute scum."
After reading his tweet, Rishi Kapoor, who has been praising Ranbir Kapoor for his portrayal of Dutt in the trailer, decided to DM the user and hurl some abuses at him. He said, "What do you know of cinema you prick. We are in the entertainment business not repairing anybody's image. As swipes [sic] like you don't deserve to see films."
But Twitterati, who seem quite fed up with Kapoor's remorseless behaviour, united to teach the veteran actor a lesson.
Many users started posting screenshots in which Rishi Kapoor's messages containing foul language were highlighted in their DMs. Rishi Kapoor apparently has been blocking each and every one of those who are saying bad things about Sanju movie, a biopic on the life of Sanjay Dutt.
Take a look.
Rishi Kapoor keeps abusing people online, and every news and entertainment portal keeps covering his movies and interviews as if this kind of behaviour is NORMAL. https://t.co/HXUv3L1eIG

— hot takes 4 koolkidz (@awryaditi) May 31, 2018
Dear Rishi Kapoor .. As I said, you've lost it. That you'd to DM me the abuses, 'secretly', says it all. What a fall. Yet, I forgive you. ? pic.twitter.com/j2R70aUhkv

— Gaurav Pandhi (@GauravPandhi) May 15, 2017