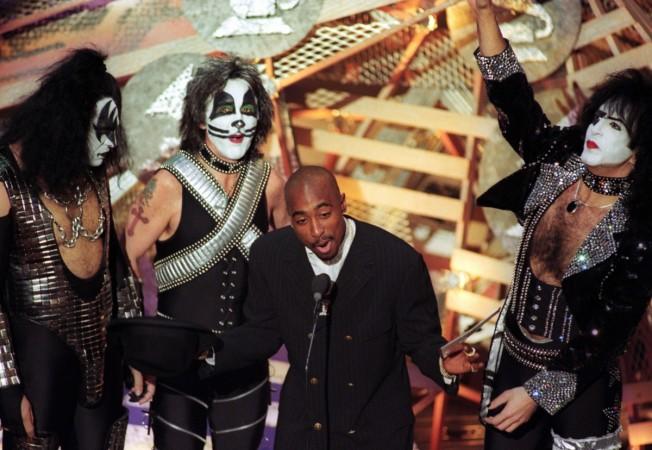 In a rare event, the world will get to see Tupac Shakur's love life, thanks to his biopic All Eyez on Me. The biopic on the rapper, popular as 2Pac, will give a sneak-peak of his childhood, love life and violent death.
The first trailer, which was released on April 8, gave a glimpse of his childhood and career and the second trailer, screened at MTV Movies and TV Awards on Sunday, focused on his love life. The latest clip showed Tupac as a lover reading touching poem for his high school sweetheart.
Also Read: Tupac Shakur biopic: Kat Graham opens up about essaying Jada Pinkett Smith's relationship with rapper
In the trailer, Demetrius Shipp Jr, who plays the role of 2Pac, is seeing looking into the eyes of his high school friend Jada Pinkett, played by Kat Graham. Jada Pinkett is now married to Will Smith.
"I wrote something for you," Tupac (Demetrius) says, before taking out a piece of paper from the back pocket of jeans.
"You are the omega of my heart, the foundation for my conception of love. When I think of what a black woman should be, it is you that I first think of. You will never fully understand how deeply my heart feels for you. I worry that we'll grow apart and I'll end up losing you.
"U bring me 2 climax without sex. And u do it all with regal grace. U r my heart in Human Form. A Friend I could never replace," he says looking into her eyes.
The poem reduces Jada to tears. She then takes the piece of paper and says, "You ain't even move to California yet and you're already going soft on me." 2Pac smiles and asks "Oh, I'm going soft? You got the tears in your eyes."
The poem, which is titled Jada, became a part of The Rose That Grew From Concrete, a collection of poetry written by Tupac.
Directed by Benny Boom, All Eyez on Me stars Danai Gurira, Annie Ilonzeh, Jamal Woolard, Dominic L Santana, Kat Graham and Jamie Hector. The biopic will be released on June 16, which coincides with Tupac's 46th birthday.