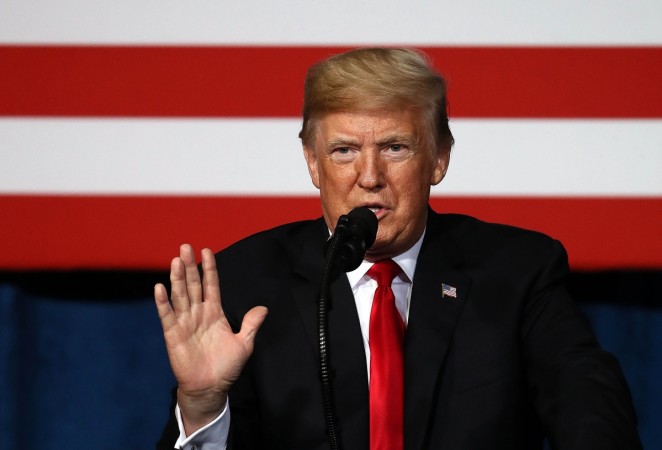 The president of the United States Donald Trump has said that he is not worried about impeachment as he has done no wrong in the run up to the 2016 presidential elections or during his tenure until now. He went on to say that the hush payments made to the two women before the polls did not violate the campaign finance laws in any way.
"It's hard to impeach somebody who hasn't done anything wrong and who's created the greatest economy in the history of our country," Trump told Reuters in an Oval Office interview.
Not just that, the president also believes that the people of the US would create an uproar if he were to be removed. "I'm not concerned, no. I think that the people would revolt if that happened," he said.
The statement comes after reports said that he was now getting worried about impeachment and a source close to the president even told CNN that Trump saw it as "real possibility." While it is being said the White House believes that the case is not strong enough to impeach the president, debate around his removal has seen a spike since federal prosecutors in New York said that Trump had asked his former personal attorney Michael Cohen to pay a large amount of money so that they would not discuss their alleged affairs with Trump before the elections.
Despite saying earlier that he "would take a bullet" for the president, Cohen in August 2018 pleaded guilty to finance violation charges against him and implicated Trump in the case. Speaking about the hush money, Trump's former lawyer said that he had paid $130,000 and $150,000 to two women, who he did not name. Cohen is thought to have paid adult film star Stormy Daniels and former Playboy model Karen McDougal.
Even though he did not name Trump, Cohen clearly explained that he was acting at the direction of the president and the purpose of the payment was to buy the women's silence so that the accusations would not dampen the election.
Later, Lanny Davis, one of Cohen's lawyers, said that his client had "testified under oath that Donald Trump directed him to commit a crime."
Cohen is set to be sentenced on Wednesday, December 12, in New York.
The Democrats also believe that the president has committed an impeachable offence and must be brought to justice.
A president can be impeached for "treason, bribery, or other high crimes or misdemeanours." In 1998, then president Bill Clinton was impeached for perjury and obstruction of justice.
Clinton's impeachment stemmed from a lawsuit filed by Paula Jones, who had accused him of sexual harassment. In the same lawsuit, Clinton was asked under oath about his sexual relations with Monica Lewinsky and he had lied. He was then impeached by the House of Representative, but went on to continue his tenure after he was acquitted of the charges in 1999.