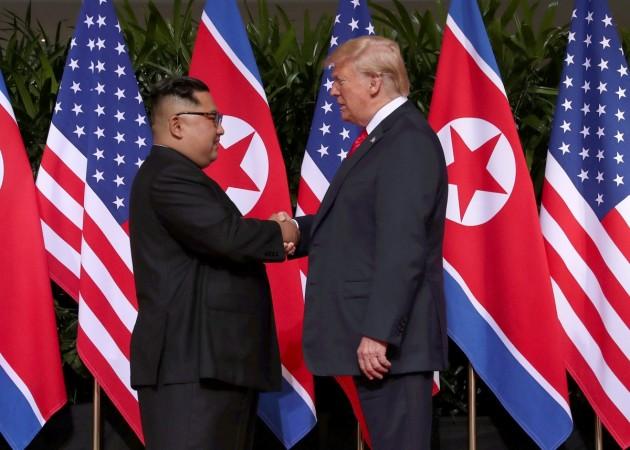 Looks like the Singapore summit between North Korea and the United States has resulted in US president Donald Trump changing his opinion of the pariah state's leader. After his return from the summit, Trump claimed that America is no more subject to any nuclear threat from North Korea.
It was decided that the United States military will stop major joint exercises with South Korea against North Korea.
"Major military exercises have been suspended indefinitely on the Korean peninsula," a senior US official told AFP. The word 'major' somehow depicts the doubts of the American authorities on Kim's agreement to the denuclearization pact.
The mood of the Americans can be sensed following US State Secretary Mike Pompeo's address to a Senate hearing, during which he raised his doubts on North Korea's intentions.
Pompeo was on a regional tour to Seoul to provide a brief on Trump's Singapore summit to South Korea, Japan, and China when he put forth his remarks on the denuclearization deal signed between the US and North Korea.
The state secretary warned that the risks still persist and that achieving peace goals would not be easy.
The US state secretary ensured the nation's commitment, stating the "complete, verifiable, and irreversible" denuclearization agreement signed by the president. He said that the sanction on the restricted military exercises will continue only until North Korea sticks to its nuclear arsenal.
The trustworthiness of North Korea and its leader being in question is a natural phenomenon, especially considering the state of human rights affairs in the country. There have been past deals with nations in which North Korea recorded only failures. Until complete denuclearization is followed by the country, the doubts will be on.
Meanwhile, South Korean Foreign Minister Kang Kyung-wha confirmed that the nation's alliance with the US is still "as robust as ever."
Former US military's Pacific Command head Harry Harris, who always appeared as a staunch advocate of the joint military exercises, told US lawmakers on Thursday that the "exercises, major exercises" should be given a "pause."
While Trump assured Americans of a sound sleep "tonight" on Wednesday via a tweet, Harris claimed it's not yet the right time. "I think we must continue to worry about North Korea's nuclear threat," he said.