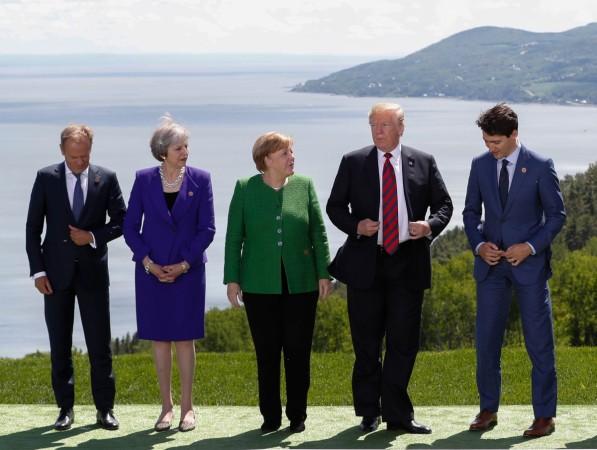 After German Chancellor Angela Merkel's G7 summit picture went viral on June 9, United States President Donald Trump has now slammed 'fake news media' and tweeted his own version of the much-talked-about meet.
In a series of tweets on Friday, June 15, Trump slammed American media outlet for portraying his image as having a negative relationship with the world leaders present at the G7 summit that took place at Quebec, Canada.
"I have a great relationship with Angela Merkel of Germany, but the Fake News Media only shows the bad photos (implying anger) of negotiating an agreement - where I am asking for things that no other American President would ask for!" Trump tweeted.
He also alleged that the mainstream media outlets had hinted at his isolation at the summit, but in fact, he claimed that "they are once again WRONG!"
After attaching four pictures of the G7 summit, Trump shed light on his relationship with leaders of G7 countries consisting of Canada, France, Germany, Italy, Japan, the United Kingdom and the United States, reports News 18.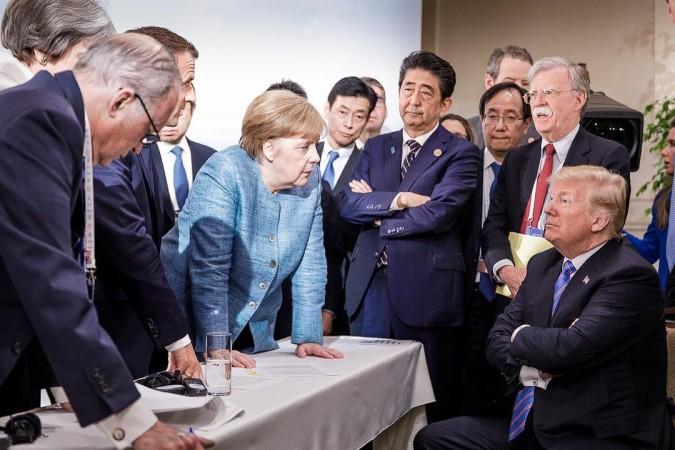 Trump said: "Great discussions with European Union Commission President Jean-Claude Juncker and EU Council President Donald Tusk at the #G7Summit in Canada last week,"
"I've had to beat 17 very talented people, including the Bush Dynasty, then I had to beat the Clinton Dynasty, and now I have to beat a phony Witch Hunt and all of the dishonest people covered in the IG Report...and never forget the Fake News Media. It never ends!" he added.
In Merkel's version of the G7 summit picture that she had uploaded on her official Instagram account Bundeskanzlerin, the German chancellor was staring down at Trump as they are surrounded by a troop of world leaders.
I have a great relationship with Angela Merkel of Germany, but the Fake News Media only shows the bad photos (implying anger) of negotiating an agreement - where I am asking for things that no other American President would ask for! pic.twitter.com/Ib97nN5HZt

— Donald J. Trump (@realDonaldTrump) June 15, 2018