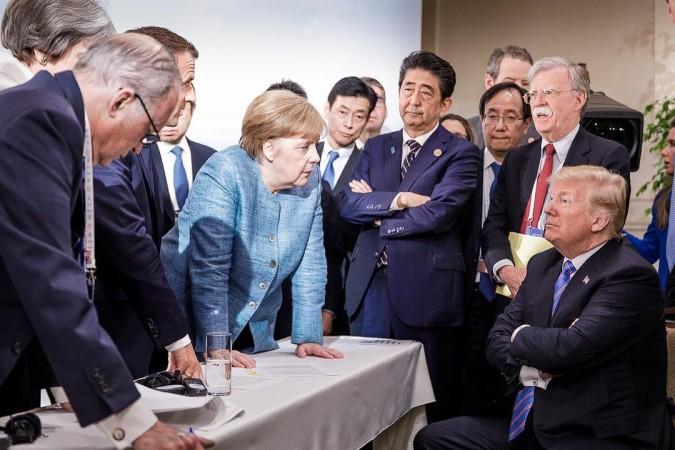 German Chancellor Angela Merkel shared a picture of the recently held G7 summit and it has undoubtedly created a storm on the internet. The viral photo shows Merkel, surrounded by a troop of world leaders, staring down at US President Donald Trump.
Merkel shared the picture on her official Instagram account Bundeskanzlerin on Saturday, June 9 and captioned the photo: "Day two of the G7 summit in Canada: spontaneous meeting between two working sessions. #G7Charlevoix."
As Instagram users flooded her photo with appreciation comments, it could even possibly hint at the isolation of Trump during the G7 summit that took place at Quebec, Canada, on June 9, reports AFP.
The picture also shows French President Emmanuel Macron, Japanese Prime Minister Shinzo Abe, and Trump's national security adviser John Bolton, among others.
The image opened the floodgates to a flurry of hilarious memes and trolls as scores of social media users even called the photo an 'iconic moment.'
It is, however, not clear as to what the world leaders were discussing when the picture was taken. The moment was perfectly captured by German award-winning photographer Jezco Denzel. He works for the German government and has also won in a category for this year's prestigious World Press Photo award, the news agency reported.
The picture had over 46,000 likes and over 3,000 comments on Instagram at the time of writing this article. Although several world leaders like Candian Prime Minister Justin Trudeau and French President Macron had posted photos on their official Instagram account, it was, however, the German version that went viral.
One of the Instagram user 'scott61132000' said: "Thank you for standing up to our President. Your strength encourages my opposition here in the USA to his Presidency. I can only hope we can recover some of our standing in the world after he is gone."
While another Instagram user with the account name 'jannakumi' said: "Best post I've seen in a long long time. Thank you!"