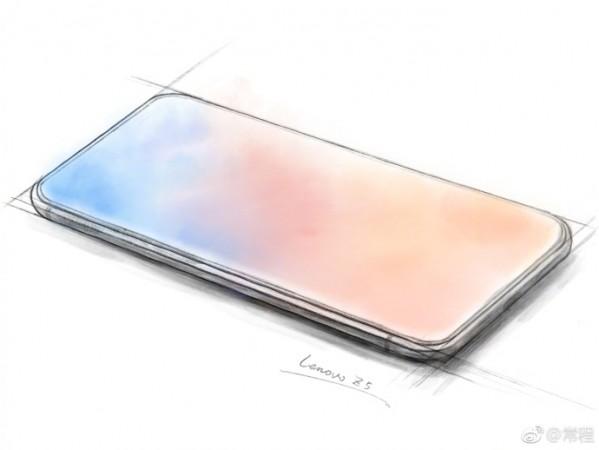 Bezel-less design in smartphones, a trend that started late last year, is the new norm and companies continue to push the limits. While Apple and other OEMs made the bezel-less design with a notch, Lenovo is coming with a truly bezel-less design with its upcoming flagship – Lenovo Z5.
The bezel design without even a notch at the top is a visual delight, and Lenovo's teasers have been generous enough to show what the Z5 flagship could offer. The Chinese smartphone maker is going to be officially launched in China on June 14, and the company's VP Chang Cheng once again made an exciting revelation about the upcoming Z5 smartphone.
According to Cheng's post on Weibo, Lenovo Z5's biggest USP isn't going to be just the zero-bezel design, but also a mammoth 4TB storage facility that makes smartphones with even the highest storage in the market minuscule.
The teaser claims the Z5 smartphone could store up to 1 million photos, 2,000 HD movies, and 150,000 lossless music files, all thanks to the generous 4TB storage. It's not clear if 4TB is in reference to expandable or internal storage, but the breakdown of what users can store suggests built-in storage. If true, Lenovo Z5 will be the world's first smartphone with the highest onboard storage.
By today's standard, the highest built-in storage we have seen in a smartphone is 256GB. There are some companies that offer up to 2TB expandable storage, but none of them offer onboard storage more than 256GB, let alone cross 1TB mark. Lenovo's promise of 4TB is beyond imagination, so we just have to wait and find out.
Lenovo Z5 – What we know
Lenovo Z5, with its teasers, is already setting a new benchmark for OEMs. Lenovo achieved the flawless bezel-less design with over 95 percent screen-to-body ratio, leaving no room for a notch. This is beyond what Apple could achieve in iPhone X.
But Lenovo Z5 isn't the first smartphone to do so. Vivo's Apex concept smartphone demonstrated the truly bezel-less design with a pop-up selfie camera, in-display fingerprint scanning dubbed as "Half-Screen Fingerprint Scanning Technology," and earpiece tucked under the display where the entire screen acts as a speaker.
Lenovo's solution for the Z5's bezel-less design is unclear. Will it replicate Vivo Apex down to the last bit or come up with something entirely new, that's a question of mystery for now. But Lenovo boasts to have 18 patented technologies and technological breakthroughs for the upcoming Z5. It will be interesting to watch what Lenovo has in store for fans next month.