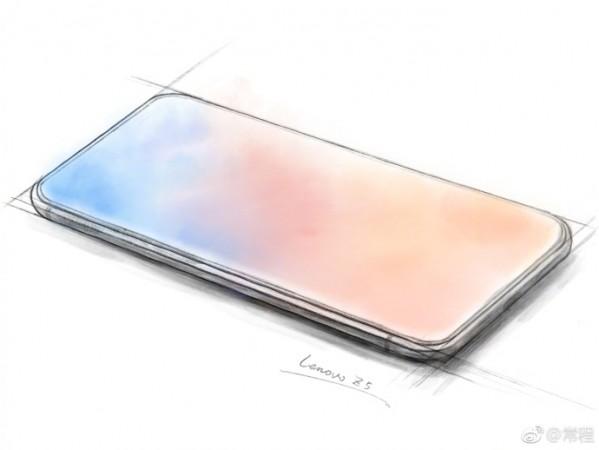 Lenovo is seen putting a lot of focus on Motorola by releasing series of Moto smartphones of late. But it's time to shift the focus back to the parent company and its teasers are suggesting something promising. Lenovo's VP Chang Cheng has been quite active with teasers about an upcoming Lenovo flagship, and the latest one confirms the name of the device – Lenovo Z5.
With that, we know Lenovo is going to launch the Z5 premium flagship next month. The word is that the company will unveil the handset on June 14, but the teasers from the company official give away more than fans need to know right now.
The biggest detail Cheng confirmed about the Lenovo Z5 is its absolutely brilliant design that is said to have more than 95 percent screen-to-body ratio. This will possibly eliminate any bezels around the display as well as the infamous notch.

Going by Cheng's latest post on Weibo, Lenovo Z5 is going to be completely bezel-free and without notch. Although the image shared by Cheng is only a sketch of the upcoming smartphone, the accompanying context speaks highly of the design, which is a result of 18 patented technologies and four technological breakthroughs. The references made in the post are still unclear.
GizmoChina's fair guessing suggests the Lenovo Z5 could have advanced features like an under-display fingerprint scanner, in-screen earpiece, and protruding selfie camera. These could be inspired by Vivo Apex's smartphone design.
Lenovo Z5's design suggests the handset will go against the Vivo's concept smartphone, Vivo X21 and Xiaomi's Mi MIX smartphone series. The sketch also shows antenna bands on the left edge, suggesting a metallic unibody, and a USB Type-C port at the bottom. Other details about the phone, including its specifications, remain unknown.
Lenovo Z5 is being teased exclusively on China's micro-blogging site, Weibo, which suggests it could be launched exclusively in the company's home country. Considering launching the Z5 outside China seems like a stretch for now, but we'll know more about that when the company officially launches the phone next month.
Lenovo recently launched S5 mid-range smartphone, K5 and K5 Lite, but the Z5 will set a new benchmark in the premium smartphone category where giants like Apple, Samsung, Huawei and others are focusing a lot on the design front. Stay tuned for more updates.