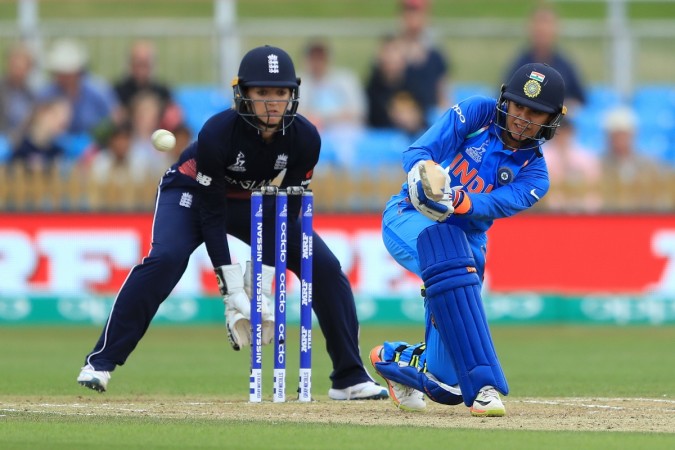 The India Women's Cricket team earned a sensational win over hosts England Women in the opening match of the Cricket World Cup 2017 in Derby on Saturday, June 24. Nothing but a complete team performance, was written all over the victory.
Mithali Raj and her women army put up an all-round performance across all departments.
From a technical point of view, there could have been certain flaws in their game which might be need to be addressed going ahead in the tournament. From a fan's perspective, however, the performance from the India Women on Saturday, remained just perfect.
India will face West Indies Women next on June 29.
Here are the big stars of the India Women's Cricket team, you should be aware of. The top 5:
Mithali Raj: Captain fantastic. Superior leadership qualities to bring the best out of her players and give the team a perfect blend of youth and experience. The 34-year-old, who is playing her last Cricket World Cup, has already inspired a lot of women to stay in the game.
Against England Women, Mithali scored 71 runs off 73 balls, blasting eight boundaries and keeping the momentum going for the India Women during their innings.
Smriti Mandhana: The future ruler. 20-year-old Smriti remained the player of the match on Saturday. Her 90 runs off just 72 balls (6x2, 4x11) came as a complete gamechanger, and also started trending on Twitter immediately.
In case you didn't know, Smriti was not even confirmed to play the tournament. She tore her Anterior Cruciate Ligament (ACL) last December while playing in the Women's Big Bash League. However, it was her will-power that made her return possible. And we repeat...she's only 20.
Harmanpreet Kaur: The star. A social media enthusiast, a hard-hitter, a good fielder and someone with a lot of aggression, the 28-year-old reminds you of Virat Kohli in many ways. Harmanpreet, however, has a style of her own. Tipped to be the India captain when Mithali retires, Harmanpreet is truly a modern player.
She backed the veteran skipper in their crucial partnership against England Women. Harmanpreet remained not out scoring 24 runs from 22 balls, which included a boundary and a huge six. She also remained the most economical player for India on the day, giving away 27 runs from 6 overs.
Deepti Sharma: The live wire. Deepti's agility is out of this world and she is just 19. She got most wickets against England on Saturday with three scalps from 8.3 overs, but it was her fielding that stood out.
Her run-out of Katherine Brunt in the 42nd over was absolutely spectacular.
Ekta Bisht: The mystery. 31-year-old slow left-arm orthodox bowler, Ekta is the joker in the pack. She has the potential to be the game-changer on a day when the other star players in the India Women's Cricket team, fall short.
She might not have impressed much with the bowl against England Women, but her recent sensational bowling spells over the last few months, talk for itself. Ekta took 5 wickets giving away just 8 runs in 10 over against Pakistan in the Women's Cricket World Cup Qualifiers, earlier this month. That says it all.
Her consistency too, is noteworthy.
Disclaimer: This list, in no way, underestimates the performances and abilities of the other members of the team.