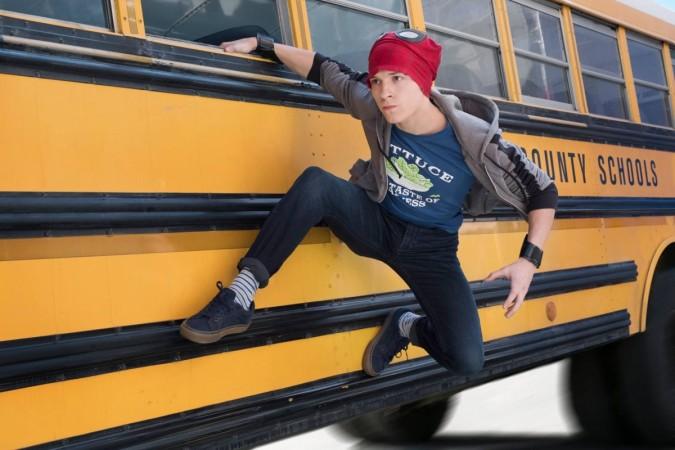 Tom Holland is currently filming in the UK for the sequel of Spider-Man: Far From Home, the sequel to Homecoming release last year. A few days ago, a few photos from the sets were shared by fans online and now, a video from the movie set has surfaced online showing the young Marvel superhero filming for a scene.
The video was shot by an eagle-eyed fan and shared online. Although the quality is not great, fans can see Holland seated on a rooftop and his posture hints he's in an emotional state of mind.
The actor is sans his Spider-Man suit but he has a backpack on his shoulders as he makes way to the isolated rooftop. Given the shot, it looks like Peter Parker is depressed being away from home.
There are many reasons that would have left Spidey feeling low. One could be that he's away from New York, his family and friends and fighting a new villain by himself. Second could be that he is remembering his mentor Tony Stark aka Iron Man.
Given that there have been speculations that Iron Man could leave the MCU, Peter could be remembering the moment Tony bid goodbye or having a mental conversation with him in the shot.
It has been confirmed that the Homecoming sequel would pick up from the events concluding in Avengers 4. But Homecoming 2 will not focus on the events of Avengers 4. Instead, the movie is set on Earth and Marvel head Kevin Feige said that the movie will watch Peter globetrotting.
Here's what the Feige told comicbook.com:
We like [the title] of course because it ties into Homecoming, not just keeping that word going, which we like and we liked it more than Homecoming 2, but that notion of 'home' is a word that has dual meanings we'd like to continue with this [Marvel Cinematic Universe] version of Spider-Man. So, Far From Home has multiple meanings."
"There's a lot of fun stuff. How it connects, where it connects, when it takes place, very similar to Ant-Man and the Wasp in that we're not gonna say right now," he added.
tom holland has been filming for spider-man far from home all week in east london, this was taken by one of my mum's friends who i live super close to i'm ajajksldldld pic.twitter.com/PLumeM5vTB

— mia; ilyicg ♡ (@cometbarbara) July 7, 2018