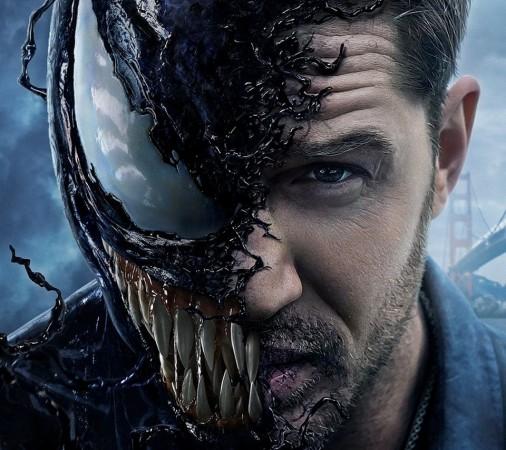 Sony finally unveiled the first look of Tom Hardy's Venom avatar in its second trailer, which was dropped at CinemaCon 2018. And, the trailer drew more views than Wonder Woman and Doctor Strange trailer in the first 24 hours, according to The Wrap.
The second Venom trailer was unveiled last Monday, April 23. And, within 24 hours, the trailer was viewed more than 64.3 million times.
The views for the superhero movie are measured by Fizzology that includes views from Twitter, Facebook, Instagram, Reddit, Tumblr, YouTube, Sina Weibo and blogs in an attempt to provide a complete and clear picture of social media opinions.
The reason for success behind the Venom's second trailer is the lack of content in the first trailer. The second one shows Eddie Brock's (Hardy) transformation into Venom symbiote, which is said to have attracted a lot of viewers because this is what exactly the Venom fans wanted to witness.
After releasing the first trailer, a debate sparked on various social media platforms as fans were not happy at all and they started questing why there was not a single glimpse of Hardy's symbiote avatar. And, that is why the negative conversation after the first trailer was dropped by 63 percent.
The Spider-Man spinoff movie revolves around a journalist named Eddie Brock, who is eager to uncover the truth while dealing with Riz Ahmed's Dr. Carlton Drake. Eventually, he will become powerful after bonding with a symbiotic alien.
Directed by Zombieland helmer Ruben Fleischer, Venom will feature actors like Woody Harrelson, Riz Ahmed and Jenny Slate besides Hardy and Ahmed.
Previously, the Venom symbiote already appeared in many Spider-Man comics since its inception in 1988. Since then, Eddie Brock aka Venom has appeared alongside Spider-Man, Deadpool, Hulk, Iron Man and other superheroes.
Venom will release in the UK and US on October 5.
Watch the Venom trailer here.