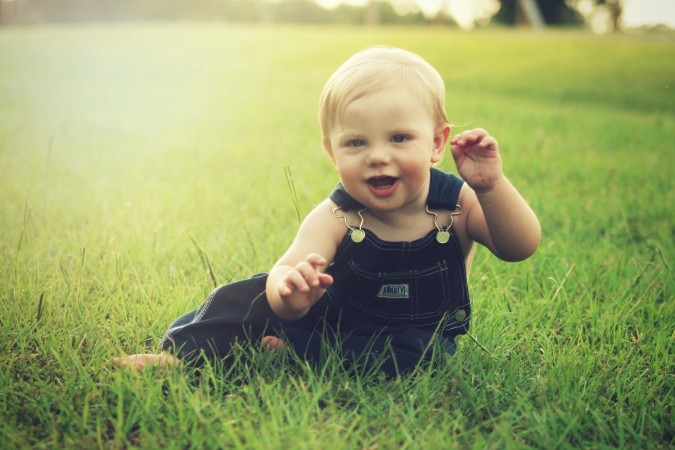 A Pakistani toddler is living with a trunk-like nose that resembles two tennis balls and is possibly bigger than their original size. Fifteen-month-old Asiya Manghrio is now awaiting a life-saving surgery because of her rare condition.
According to Daily Mail, the child hails from Sanghar in Singh province and has been labelled a 'curse' by heartless family members and relatives. Some of her father's side of the family also call her a 'defected baby'.
Also read: Baby born with 'parasitic penis' attached to his back becomes one in a million occurrence!
Her condition is called frontonasal encephalocele, as neurosurgeon Dr Lal Rehman, mentioning "it's a congenital defect" that causes brain tissue to grow out through a defect in the skull. This has also lead to struggles in sleeping and eating properly and makes her cry incessantly.
Despite her parents' firm belief that without surgery she could lose her life, skilled doctors fit for the procedure, have been too busy to tend to her necessity.
She was taken to their country's premier Jinnah Post Graduate Medical Centre in Karachi where several doctors examined her case.
Her mother, Fatan Achar, shared how she had to sell gold ornaments to arrange money for making the journey of 160 miles to the hospital, and also to pay for doctor's bills.
But there were already multiple cases lined up, which resulted in the doctors not admitting Asiya immediately. Instead, they asked Fatan, 23 and her husband Achar, 27 – a farmer – to wait for at least two months for surgery.
Btu for Achar – who makes around 100 euros per month, the wait is terrifying as he fears the loss of his only child from delayed surgery.
Also read: Meet Vanellope: UK's first baby to survive despite being born with heart outside her body
He said: "[The doctors] said there is no other way to remove the tumour from her face. But they did not give us any immediate dates for the surgery and told us to wait for two months, claiming there are already too many cases in the hospital awaiting surgery.
"Due to lack of crucial funds, I cannot take my daughter to any private hospital either. We are desperately waiting for her surgery. It is painful to see our daughter in such a condition."
But the physical pain isn't the only turmoil in their daily life, as Fatan spoke up about her cruel in-laws' harsh comments about Asiya, and poor treatment towards both mother and child.
Also read: Miracle! Baby conceived just 18 months after her mother was born
She said: "Asiya was born through a caesarean delivery and had a swollen nose. Within a few months, her nose started growing at an abnormal rate and now its size is bigger than a tennis ball.
"Due to the large weight and size of the nose she cannot eat properly or sleep well and cries incessantly. My in-laws have branded me a curse. They show a very strange behaviour towards me. They even taunt and curse me for giving birth to a defected baby.
"It is very heartbreaking that we have to go back to Sanghar and return after few months for Asiya's surgery. We will not be able to bear the travel expenses again and will have to lend money from relatives."
Dr Rehman – the surgeon Asiya's parents consulted at Jinnah Hospital, believes, "Currently, the condition is not causing her any trouble in breathing but the tumour can cause serious problems and grow even bigger if left untreated. Surgical correction is the only treatment for this condition."
Hoping for a government aided surgery to remove the tumour from Asiya's face immediately, Fatan said: "We cannot afford to go to a private hospital but cannot see her in pain.
"All we want our daughter is to live a healthy life just like other children and have a bright future. And surgery is the only way possible.'