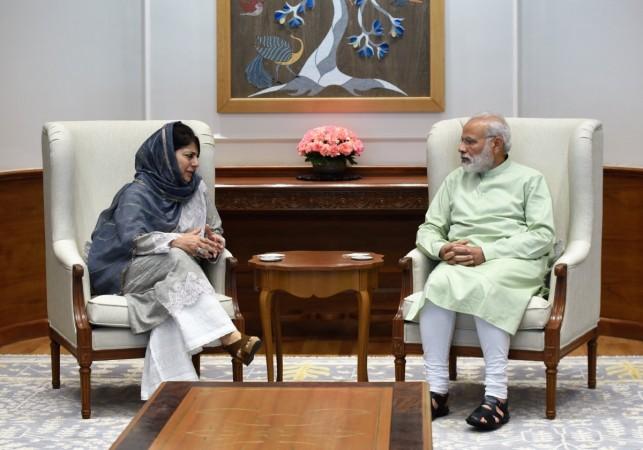 She has seen her state on the boil for most part of her days as the chief minister. But as a leader who knows the pulse of Jammu & Kashmir, Mehbooba Mufti is convinced about her straightforward viewpoints on what is making the state and its people suffer.
In an exclusive interview given to leading Bengali daily Anandabazaar Patrika, Mufti, who took over as the chief minister last year after the death of her father and veteran leader Mufti Mohammad Sayeed, said today's generations in Kashmir are not afraid of the army because of various reasons and the current problem in the state cannot be solved through military strategies.
According to her, the dissenters of today need to be dealt with through softer means like culture, sports, education, jobs over a long term. She said the current generation grew up in an entirely new environment and are much more skilled in using gadgets and technology than their predecessors. "The society, parents, teachers have to come forward to calm them down. Just military moves cannot deal with them," she said when asked about the daredevilry of today's young protesters.
Mufti also felt that instead of only blaming Pakistan for Kashmir's ills today, other issues also need to be addressed. She said Pakistan and China have worked for the development of the parts of Kashmir they have kept occupied but India has not been upto the mark to focus on Kashmir's well-being. "This ignorance has what made the Kashmiris angry," the CM said.

Mufti, who backed her Peoples Democratic Party's alliance with the BJP in governance, said in the interview that the dialogue on Kashmir needs to go to the next level and no indication has been seen on that yet. "Why couldn't we make Kashmir a model for cooperation in the Saarc," she asked. She also asked if China could set up an economic corridor in their occupied portion of Kashmir, why couldn't the Saarc play a positive role in developing the infrastructure in Jammu & Kashmir?
Mufti might have been eclipsed by Prime Minister Narendra Modi's overwhelming presence when it comes to Jammu & Kashmir but is New Delhi sparing a thought for the J&K chief minister's prescription to give peace a chance in the state the situation where is looking increasingly ominous?