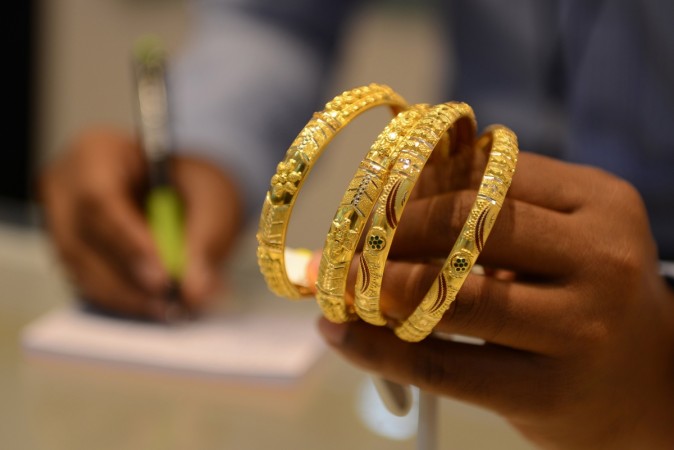 The Goods and Services Tax (GST) Council fixing 3 percent tax rate on gold and other jewellery items at its June 3 meeting triggered a rally in stocks such as Titan and PC Jeweller from Monday (June 4), lifting their market capitalisation in the process.
Titan's valuation rose from Rs 41,926 crore ($6.51 billion) as of June 2 to Rs 46,968 crore ($7.31 billion) on June 8 before settling down at Rs 46,604 crore on Friday (June 9), a net gain of Rs 4,678 crore based on the closing price of Rs 524.95.
Read: GST Council fixes 3% tax rate for gold, 18% for biscuits, 12% for garments
However, the Tata Group saw an erosion in its market capitalisation between June 8 and 2, mostly due to share prices of Tata Consultancy Services (TCS) and Tata Motors falling sharply.
The market capitalisation dropped to Rs 8,55,652 crore ($133.3 billion) as of June 8 in comparison to Rs 8,77,791 crore ($136.2 billion), or Rs 22,139 crore ($2.9 billion).
TCS saw erosion of Rs 22,106 crore and Tata Motors took a hit of Rs 5,139 crore while Tata Steel's market capitalisation gained Rs 714 crore.
TCS was hit by a negative report by brokerage Nomura, leading to its share prices crashing.
Tata Motors shares ended at Rs 467 apiece on Friday on the Bombay Stock Exchange (BSE) on Friday, up 1.40 percent from their previous close. The stock has risen from Rs 426 as of May 9, translating into a monthly gain of 9.6 percent.
Brokerage Motilal Oswal Securities has a target price of Rs 635 for Tata Motors, projecting its fiscal 2018 revenues at Rs 3,00,900 crore and net profit at Rs 10,460 crore.
Other listed entities of the Tata Group include Tata Power, Tata Communications, Tata Chemicals, Indian Hotels Co., Voltas, Trent and Tata Coffee.
The BSE Sensex closed 49 points higher at 31,262 while the Nifty ended 21 points up at 9,668.