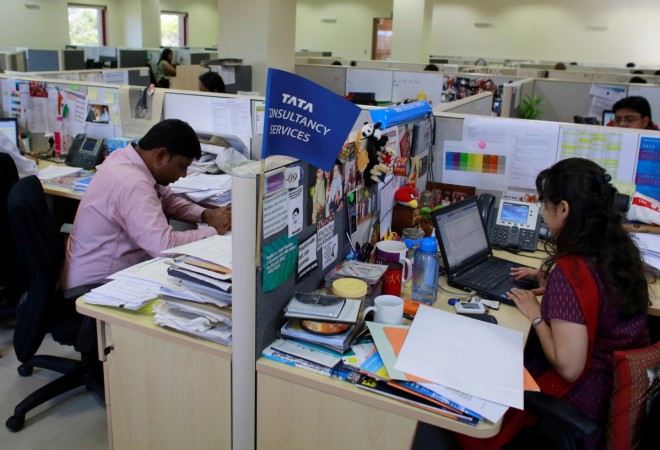 Update at 1.24 PM: Shares of Dr Reddy's Labs, Sun Pharma and Tata Steel were trading with gains even as the BSE Sensex was down 27 points to 31,244. Sun Pharma was up 4.02 percent at Rs 531, Dr Reddy's at Rs 2,655 and Tata Steel at Rs 504. TCS was down 3.36 percent down to Rs 2,527.
The target price for Tata Steel share was upgraded to Rs 710 by CLSA on "better pricing in India and likely de-risking in Europe business," according to CNBC-TV18. "We see scope for Tata's valuation multiples to expand driven by improving Indian steel industry pricing and demand-supply outlook, and high visibility of a significant de-risking in Tata Steel Europe (TSE)," the brokerage said.
Read: Tata Steel leads Sensex rally, up 8% after upbeat Q4 results
Stocks that hit new 52-week highs on Thursday included PNB Housing Finance, Mahindra Holiday, MRF, HDFC, Godrej Industries, Ceat, Maruti Suzuki and Kotak Mahindra Bank.
Stocks at new 52-week low included Pfizer, OnMobile Global and Videocon Industries.
Stocks that are expected to return good returns, according to Angel Broking: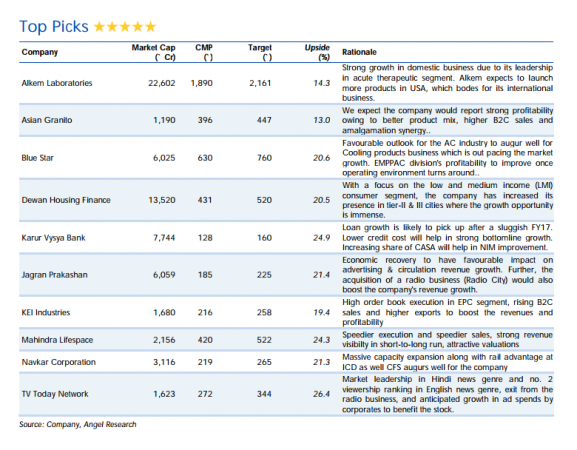 Original story:
Shares of Tata Consultancy Services (TCS) fell sharply on the Bombay Stock Exchange (BSE) on Thursday in response to brokerage Nomura downgrading the stock to Rs 2,200. At around 11.25 am, the stock was trading 2.58 percent lower at Rs 2,548 after hitting a low of Rs 2,536 in early trade and was one of the top three Sensex losers, besides GAIL and ONGC.
The BSE Sensex was down 24 points to 31,247.
In their report, Nomura analysts Ashwin Mehta and Rishit Parikh wrote that the recent rally in TCS share price in the past few days was not supported by fundamentals.
"TCS has risen 16 percent over the past month and is now at a one-year high, despite missing consensus growth estimates in eight of the last nine quarters and consensus EPS cuts of ~15 percent over the last two years for FY18/19F. We find the stock expensive at ~20/19x FY18/19F EPS (30-40 percent above INFO/HCLT, despite similar or likely lower EPS growth)," they said in their Thursday note.
The company is also the most vulnerable among Indian IT companies from a H-1B visa viewpoint. "...margin risks and threat of US immigration tightening remain (TCS is most prone among tier 1 Indian IT)," the two analysts said.
Despite the company's optimism on revenue growth for the current fiscal, there is a high possibility of a mismatch between actual numbers and projections.
"TCS commentary has stayed optimistic, but still numbers have not come through, and we expect lower growth in FY18F vs FY17, given: 1) weak exit growth of 5.8% y-y, 2) steep CQGR requirements for matching FY17 growth in FY18F across a lot of segments – BFSI (2.5% vs 1.2% in FY17), Retail (2.6% vs 0.5% in FY17), Healthcare (3.5% vs 2.7% in FY17), Energy (5.2% vs 4.6%) and even in the US (2.9% vs 1.1% in FY17), 3) caution on Retail/Telecom/Healthcare segments on weak client financials and slower deal translation."
Nirmal Bang Institutional Equities (NBIE) has recommended "sell" on all IT stocks, including TCS, Infosys, Wipro, HCL Technologies and Tech Mahindra.
Wipro was trading 0.53 percent down to Rs 546, Infosys was trading 1.13 percent at Rs 950, down 1.13 percent while Tech Mahindra was trading almost flat at Rs 397.

In other corporate news, Kotak Mahindra Bank plans to raise up to Rs 50 billion from both domestic and overseas markets to drive growth and Reliance Nippon Life Asset Management got board approval for its initial public offering.