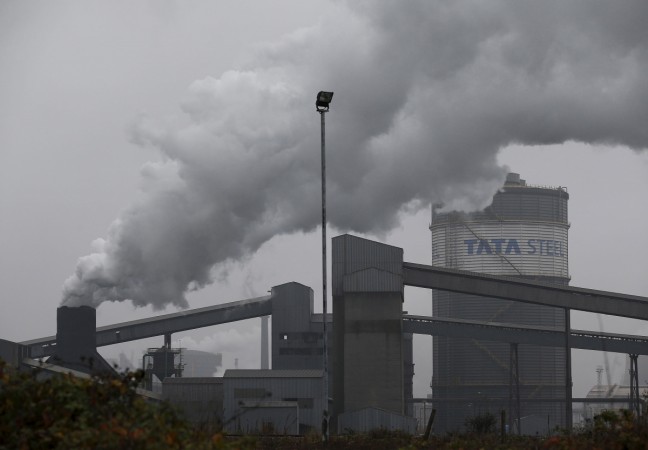 Update at 2.54 PM: Tata Steel was sustaining the momentum on the BSE, trading 8.10 percent higher at Rs 494 on the back of upbeat Q4 results declared the previous day. The 52-week high for the stock is Rs 508.
Original story:
Tata Steel shares gained 8.75 percent to hit an intraday high of Rs. 496 apiece on Wednesday, May 17, and were trading at Rs. 494, up 8.07 percent at around 11.58 am in response to upbeat performance for the fourth quarter (Q4) ended March 2017. However, a brokerage has sounded caution over its future, primarily citing the company's pension settlement in the UK.
Tata Steel's Q4 consolidated net profit, excluding exceptional items, was Rs. 3,352 crore as against a loss of Rs. 453 crore. The company had to provide Rs. 4,069 crore during the quarter for curtailing a provision of the British Steel Pension Scheme over future accruals. Factoring the amount, the company reported a consolidated net loss of Rs. 1,168 crore.
Consolidated revenues rose 30 percent to Rs. 35,305 crore from Rs. 27,071 crore in the year-ago period and 22 percent over Rs. 29,025 crore during the December 2016 quarter (QoQ).
Volume sales came in at 6.83 million tonnes, up from 6.32 million tonnes in the corresponding period last year while the full-year volumes stood at 23.88 million tonnes.
"Launched 31 new products in India and 20 new products in Europe in FY17. Branded products contribute 45% of revenues in India. Differentiated products mix at Europe improved from 32% to 37% in the current fiscal," Tata Steel said in a statement.
Update on pension scheme
"The accounting for exceptional items in the consolidated financial statements of Tata Steel Limited includes a significant accounting treatment arising from the closure of the defined benefit section of the British Steel Pension Scheme (BSPS) to future accruals in March 2017.
"This follows the completion of the consultation process by Tata Steel UK Limited (TSUK) with employees in the UK following which, the BSPS has been closed to future accruals with effect from the end of 31 March 2017," the company said.
Brokerage Motilal Oswal Securities Ltd. (MOSL) said in a note that this is a dampener for the company's future performance. "The settlement of pension in the UK would be a costly one, with INR48/share in initial outflow and a 33% stake in TSUK Tata Steel UK), which was a negative surprise," MOSL wrote in its note.
The brokerage put the target price for the company as Rs. 451.
Debt and capex
Tata Steel's net debt stood at Rs. 72, 367 crore as of March 31, 2017, marking an increase of Rs. 1,268 crore from the previous fiscal while cash and cash equivalents stood at Rs. 19,800 crore.
Earlier this month, Tata Steel UK completed the sale of its Specialty Steels business for £100 million.
JSW Steel will be declaring its results today (Wednesday). The BSE Sensex was trading almost flat at 30,572 at around 12.25 pm.