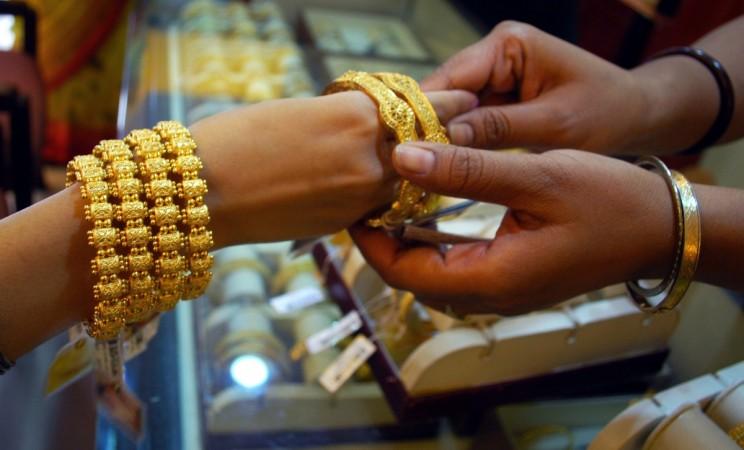 Gold prices in India have dropped by less than 10 percent since demonetisation, but shares of companies predominantly in the gold jewellery business have fallen at a higher clip. The sectoral index representing these companies has also declined at a higher pace than the BSE Sensex.
Gold prices ended Rs 200 below on Thursday at Rs 28,250 per 10 gm, a fall of Rs 2,600, or 8.42 percent, from the November 8 closing of Rs 30,850.
In contrast, share prices of gold companies such as Titan, PC Jeweller and Tribhovandas Zaveri (TBZ) have lost in the range of 15 to 23 percent during the period.
On Thursday, Titan shares closed at Rs 315.45 on the BSE, a fall of 14.8 percent from its November 8 closing of Rs 370.60, while the decline was 21.1 percent in the case of TBZ to Rs 79.30 from Rs 62.50 (closing price on November 8).
In case of PC Jeweller, the drop was the sharpest at 23.4 percent to Rs 480.55 from Rs 367.90 (closing price on November 8).
The BSE Consumer Durables index, which comprises these scrips among others, dropped 11.98 percent during the corresponding period (December 15 - 10,982, November 8 - 12,477).
The fall in silver prices was similar, from Rs 43,850 per kg on November 8 to Rs 40,950 per kg on December 15, 2016.
Indian government authorities have been seizing large quantities of gold in raids ever since the demonetisation of high-value currencies announced by Prime Minister Narendra Modi on November 8, 2016, in what has been described as a "surgical strike" on black money.
Prospects for gold prices in the future are bleak in view of global developments, the most significant being the US Federal Reserve raising interest rates.
"The yellow metal came under pressure and fell to the lowest level in 10-months after the Federal Reserve raised rates by 25bps. Expectations of rising rates are bearish for gold, as the metal struggles to compete with yield-bearing investments when borrowing costs rise," IFA Global said in a note on Thursday.