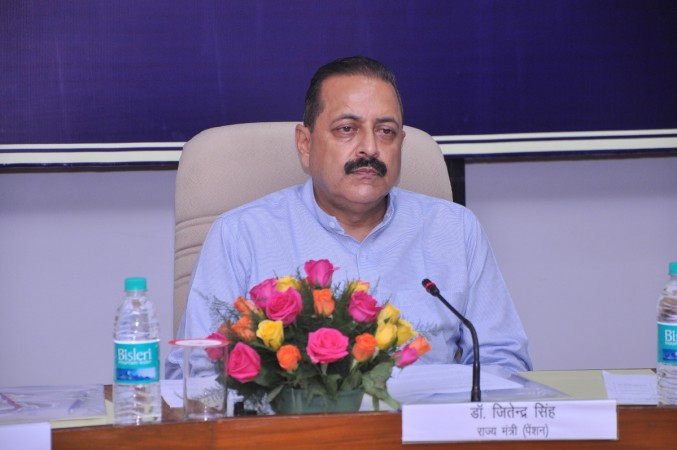 A day after Prime Minister Narendra Modi said that Pakistan-occupied Kashmir (PoK) is also a part of Jammu and Kashmir (J&K), Minister of State (MoS) for the Prime Minister's Office (PMO) Jitendra Singh said the "Tiranga yatra," which he flagged off on Saturday from Kathua in the state, would end when the tricolour is hoisted in PoK. Meanwhile, Baloch activists thanked Modi for speaking on the issue, and urged him to bring it up in the upcoming session of the United Nations.
Speaking during the launch of the "Tiranga yatra," Singh said: "The actual culmination of the 'Tiranga yatra' will be in Kotli and Muzaffarabad when we succeed in hoisting the tricolour of India in PoK."
He added: "It is our moral and national responsibility to stand by our brothers in PoK and also Gilgit-Baltistan, and at the same time to draw attention of the world to the kind of human rights violations taking place in that region."
This statement by the MoS is being seen by political observers as a strong retaliation to Pakistan raising the issue of Kashmir time and again, besides terming the unrest in Kashmir a "freedom struggle" and terrorists like Hizbul Mujahideen commander Burhan Wani "martyrs" when they are killed in encounters with the security forces.
Meanwhile, activist Naila Qadri Baloch said on Saturday: "We, the people of Balochistan, Pakistan and PoK, thank you [Modi] for your support." She added: "We, the people of Balochistan, are suffering. We hope that you [Modi] raise this issue in the U.N. session in September."
Another activist, Hammal Haider Baloch, said: "We welcome Modi's statement to support the freedom movement of Balochistan." He added: "This is the first time ever that an Indian prime minister has expressed his wish to support the Baloch people. It is a very crucial decision."
He also said: "The Baloch people share a common interest with India. We are secular and believe in democratic principles. Pakistan has never complied with international rules. They are killing Baloch people. It is time for the world to come forward and support us."
The activist later said: "Pakistan is butchering Sindhi political activists and supporting religious groups which are a threat to the world."
It may be noted that the Baloch people declared their independence on Aug. 11, 1947, which was three days before Pakistan achieved independence. However, Pakistan occupied the area, and has not let go of it since. Despite that, Balochistan celebrates its Independence Day every year.