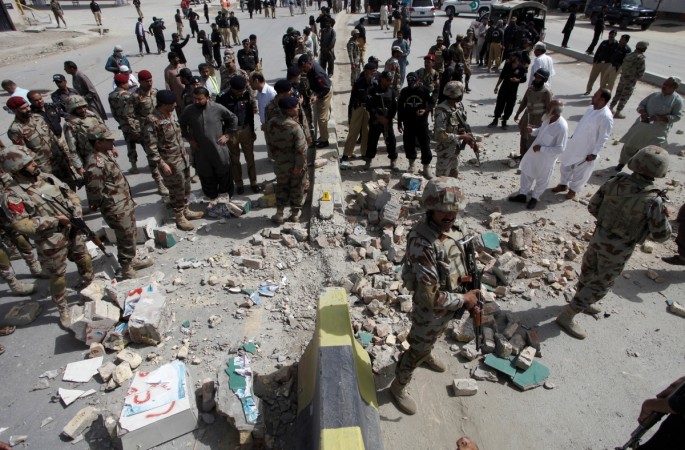 The restive Balochistan province of Pakistan celebrated its Independence Day on Thursday, Aug. 11, but the occasion was marred by a bomb blast on Zarghon Road near the Al Khair Hospital in Quetta that left at least a dozen people injured.
It may be noted here that Balochistan had declared independence on Aug. 11, 1947, but was occupied by Pakistan in 1948, and like other Pakistan-occupied areas, does not witness the best of human rights practices.
Balochistan Home Minister Sarfaraz Bugti said about the explosion, and the one before it, that killed 70 people in Quetta: "These blasts are aimed at sabotaging Independence Day activities in Balochistan. I believe these cowardly acts will not bring down our morale. We are in a conflict zone and we will fight with renewed resolve."
Balochistan, spelt in some places as Baluchistan, has been the sight of many such incidents, with some being of the opinion that many of these attacks are funded or sponsored by the Pakistani authorities. There have reportedly been a spate of killings in Balochistan at the hands of the Pakistani armed forces or the police — incidents that have been described by Human Rights watch as having reached "epidemic proportions."
Pakistan is said to deploy a practice of "kill and dump" in the region, and also simply arrest or snatch up people. Human rights groups keeping count claim that the number of people who have simply "disappeared" this way could be in the tens of thousands. Sometimes the missing people do return, though, only in the form of corpses. A mass grave of over 100 people was discovered in the Khuzdar district in 2014, according to the Asian Human Rights Commission (AHRC).
This kind of unrest is seen in many other regions occupied by Pakistan. For example, another AHRC report recently said that the police, instead of maintaining law and order, were extorting money and torturing people in Gilgit-Baltistan. Less than a month earlier, parts of Pakistan-occupied Kashmir had seen protests against elections, which local residents said were rigged by the ruling party, led by Pakistani Prime Minister M Nawaz Sharif.